Direction
Acting
Screenplay
Editing
Cinematography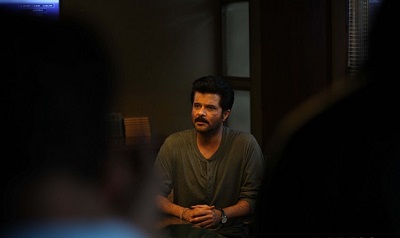 Hmmm…so is Jia () the geek the ATU leak? Is she the traitor who has been keeping tabs and passing all top secret info? Episodes 7 and 8 of the "24 India" entered into a whole new maze of thrill and suspense with riveting twists and turns. The speed quickened and characters got greyer and darker.
Vikrant (Divya Singhania's tipsy hubby) is seen into a consenting adult-dangerous liaison with Mehak the "I-will-reveal-it-all-on-national-new" reporter. Trisha (Tisca Chopra) escapes, calls the ATU office, gets connected to Jia instead and explains to her the kidnapping, of her and her daughter. A trusting Trisha lands into trouble sooner later in the episode, and her misplaced call to Jia ends up with the terrorist Yakub (Ankur Ajit Vikal) kidnapping her again. Meanwhile, Kiran (Sapna Pabbi) cuts short the escape plan when she sees the baddies bring in her mother Trisha too. A cornered Rathod (Anil Kapoor) plays along like a puppet to Yakub's instructions by first picking the SD card given by slain agent Wasim (Anupam Kher )from ATU office and then gets the assassin in with Rathod's all access pass to Aditya Singhania's meeting and rally.
What got on our nerves was Yakub's constant "do this or I will kill you wife and daughter" demenour. That was in excess. Anything for a dash of drama. Sensing something wrong, Nikki (Mandira Bedi)c onfronts Rathod, who in turn is forced to take Nikki out of the ATU at gunpoint. They reach a jungle and Rathod's then directed to get rid of her. Rathod shoots and pushes Nikki down the hill. But she survives, calls up ATU and asks Tej (Adhir Bhat) to connect her to Jia. The latter is shocked to know that Nikki could be dead.
Our spidey sense says that Jia is just one of the pawns and the real player is still calling the shots. If Jia was the traitor, then she had to be all calm and calculative, and not fret and panic over Nikki's death. Side Note: Divya Singhania  (Shivani Tanskale) is holding on to more than she is letting on and we are waiting for that to come out of the shadows. Seems like there is a lot of layers to this onion…peeling one at a time.
"24 India" airs Friday and Saturday at 10 PM on Colors. You can also catch full episodes on thechannel website. 
Comments
comments