Direction
Acting
Screenplay
Cinematography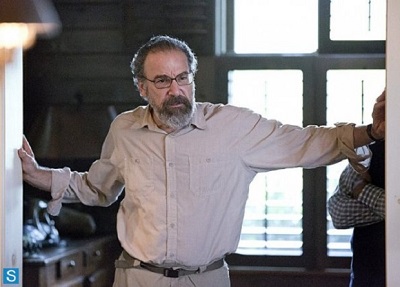 After watching the 30-second promo at the end of last week's episode, we were really gearing up for some authentic "Homeland" action. Our eager-beaver anticipation, however, fizzled out with disappointment. What, pray tell, is the whole point of making viewers go through 40-minutes of an episode to arrive at four minutes of something good? This has been the case with "Homeland's" current season and it's really pissing us off.
"The Yoga Play" has been no different. While we thought the show's title would be a cool nod to a sleuth job, it wasn't. The creators tried it to make it so, but failed to build the tension and expectation that was required for such a play. We all know now that Carrie Mathinson (Claire Danes) is a double agent, tricking us (at first) and Majid Javadi (Shaun Toub) into thinking she's a disgraced agent who will spill the country's secrets to avenge her tainted reputation. But apparently, Saul Berenson (Mandy Patinkin) and our bipolar protagonist have been plotting this mega scam since just a few days after the Langley bombing. Really now? Did the whole thing have to become four weeks worth of an agonising saga? How unpredictable. NOT.
Let's start with what worked with this week's episode. Despite the nosedive "Homeland" is taking into fail waters, "The Yoga Play" marked a shift to normalcy. It felt like a comeback, however trepid and brief it was. Saul has been holding Langley up on his shoulders, trying to get the Agency back on track. Instead of rewarding his gallant management, the government bends him over and does ugly things to him. The President nominates shitface senator Andrew Lockhart  (Tracy Letts) as the next director. To add salt to his wounds, Saul's wife Mira (Sarita Choudhury) is spotted dining with a dapper gent whilst the mister is away. While Saul is reeling from the double backstabbing he's had to endure on the work and home front, Carrie's taken away, that too on Peter Quinn's (Rupert Friend) watch. Saul's final words, "She's always been on her own," are chilling and uplifting at the same time because they are true. Carrie's always been a one-woman army, doing whatever she's got to do. At the same time, the brown stuff has really hit the fan this time. We don't know whether the mission has been compromised or whether everything is going according to plan. It's this cliffhanger that will make us watch next episode, but judging by how things are progressing we might have to fast-forward to the last ten minutes to get to the good stuff.
Now to the not-so good things about "The Yoga Play." Why are we still worried about Dana Brody? (Morgan Saylor) Because of her stupid daughter, Jessica Brody (Morena Baccarin) has had to beg at Carrie's feet. Wait, hold up. Yeah, she really did that because apparently her marine major boyfriend Mike Faber (Diego Klattenhoff) has his hands tied. So Carrie, who endured a mental asylum for this mission, decides to compromise her position and aide the woman who's husband she slept with. Way to go, "Homeland."
What's worse is that teen Brody returned home only after realising her boyfriend Leo Carras (Sam Underwood) lied to her. So much for Carrie's effort, right? If we're going to see so little of the Brody family, why are we subjected to so much of Dana? Then there's the future of Langely. While the new director's appointment may seem pretty genuine based on how politics actually functions in the real world, we're not sure how the show will carry forward the premise of doing away with Javadi. Does this mean that Saul is going to throw caution to the wind during his last two weeks as interim director? What's going to happen after that? Finally, what's the deal with Nicholas Brody (Damian Lewis), huh? Is he on maternity leave or something? Of five slow episodes, we've seen him only in one. What is the purpose of heroining him up and having him just lie in the "Tower Of David?"
So many questions and, unfortunately, we know it's going to take so much time for Showtime to reveal anything worthwhile. Sure the creators are making us curious. But more than anything else, it's the consistency and rate at which events are unfurling that's converting most "Homeland" fans out there, like us, into non-believers. However, we will put aside our anger and give "Homeland" another objective chance next week, because after all, the invested viewer doesn't really have any other choice.
Watch the next episode of "Homeland" on October 28, 2013, 10 pm on Star World Premiere HD.
Comments
comments