In this week's #PopCast,tune into the classic tunes from the post disco era of the 1980s. Between the mainstream popularity of disco music in the late 1970s and that of house in the early 1990s, synthesizers and drum machines were becoming a regular feature of pop music.
Bands like Earth, Wind & Fire and Chic, and the numerous records produced by Nile Rodgers and Bernard Edwards performed a hybrid of funk, R&B, and disco in the late 1970s (with disco itself being an outgrowth of funk and R&B) that went on to influence artists like Ashford and Simpson, Rufus and Chaka Khan, Debbie Harry, Madonna and Quincy Jones.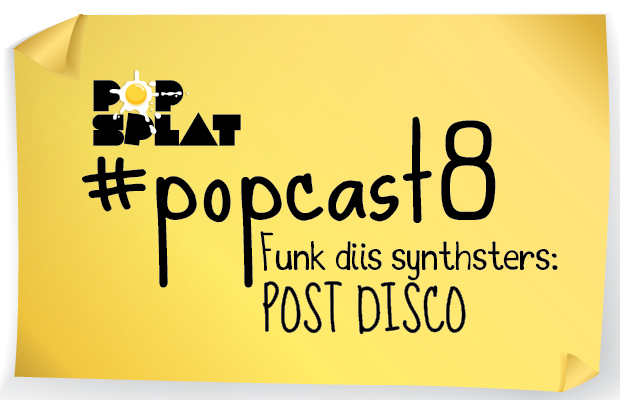 Even though disco's popularity waned in the face of hard reaction from punk rock (which was the antithesis of disco), R&B produced during the 1980s evolved by merging together elements of soul, funk, electro and disco to become a hybrid form of R&B dance music.  Michael Jackson's most celebrated album "Thriller" (produced by Quincy Jones) along with its $title track typified the genre. The sound that characterised post-disco music would remain popular until people began incorporating the production techniques being used by hip hop producers, evolving into genres like New Jack Swing, Neo Soul and other R&B pop hybrids.
This era produced a volume of hits that would also be extensively covered and sampled by hip hop artists like 2pac, Biggie Smalls, Lil Kim, Puff Daddy, Mase and Will Smith; and house/nu-disco Artists like Modjo, Room 5 and Michael Gray, all charting tracks in subsequent decades. The current disco revival that has happened thanks to artists like Daft Punk, Bruno Mars and Justin Timberlake seems a testament to the lasting influence this era's music continues to exert on pop music today.

#PopCast 8 Funk Diis Synthsters: Post Disco by Popsplat on Mixcloud
00:00 – 01:28 – Introduction
01:28 – 04:39 – Off The Wall – Michael Jackson (1979)
04:39 – 07:47 – Ain't Nobody – Rufus and Chaka Khan (1983)
07:47 – 11:00 – A Night To Remember – Shalamar (1982)
11:00 – 13:25 – Light Up The Night – The Brothers Johnson (1980)
13:25 – 17:13 – The Sound Of Music – Dayton (1983)
17:13 – 20:44 – Last Night A DJ Saved My Life – Indeep (1983)
20:44 – 23:59 – Rockin' After Midnight – Marvin Gaye (1982)
23:59 – 27:14 – Must Be The Music – Secret Weapon (1982)
27:14 – 30:52 – I Feel For You – Chaka Khan (1984)
30:52 – 34:22 – Curiosity – The Jets (1985)
34:22 – 37:42 – Soup For One – Chic (1982)
37:42 – 41:26 – Holiday – Madonna (1983)
41:26 – 45:15 – Just an Illusion – Imagination (1982)
45:15 – 48:57 – Candy – Cameo (1986)
48:57 – 52:59 – Same Ole Love – Anita Baker (1986)
Comments
comments