At the recently concluded Spring/Summer 2014 edition of the Wills Lifestyle India Fashion Week held in Delhi, there was an area that was perhaps the most photographed, even more than the action on the ramp. The true head turner for the five days was a Tata Nano car parked in the main designer stall area. While we all know the toy car has always had an enviable cuteness about it, this particular one had most going aww in fondness. There she was dressed in her new pop colours complete with animal print and even endearing polka dots in peach. With alloy wheels in mint to match, this car was undoubtedly a showstopper. Designed by Masaba Gupta, unarguably the rising star of the Indian fashion industry and fashion director of Satya Paul, the car design was unveiled on the first day of WIFW SS 14. Though we are no fans of the car itself, there's no denying that post Gupta's makeover, we can see ourselves steering the limited edition to a fashionable do. When it comes to the design, Gupta says she was inspired by her quirky yet chic pop prints. Incidentally, the car also features in a new advertising campaign for the company that celebrates the spirit of young achievers. "This design is basically to celebrate the awesomeness in youth and the initiative was to do a fun car that would be a limited edition and auction it for charity," Gupta was quoted saying. And it sure takes a designer to turn the seat covers from boring PVC to handloom ikkat. Oh, how we wish, other car manufacturers would take cue. We are all for this wheels of change.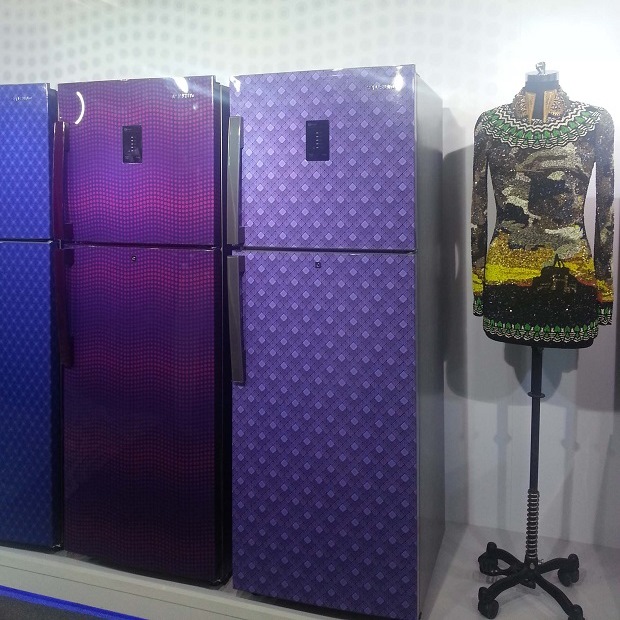 It seems fashion weeks are looking to go beyond just apparel design and it was more than apparent at WIFW this year. Housed close to Masaba's Nano rendition was an entire stall showcasing Samsung India's latest line-up of refrigerators and washing machines. Internationally, such an addition to a serious fashion event would be considered blasphemy but then sponsors are hard to come by and a little bit of adjustment hurt no one, right? (Fashion Design Council of India, we hear you) So there they were – metallic coloured fridges and washing machines, all part of Samsung India's new collaboration with ace designer Manish Arora. While we are enthusiastic about concepts that bridge function with fashion, this "Samsung Meets Fashion" collection came across as tad gimmicky. Placed next to each of the machines were designer ensembles by Arora. The interpretation was done well and for those who are looking to infuse some colour (and quirk) in their homes, a shiny washing machine in aubergine is the perfect conversation starter.
While the Tatas roped in Masaba for the Nano, elsewhere another sponsore Fiama Di Wills, signed on veteran designer Wendell Rodricks to design the second edition of their signature couture spa range of - hold you breath and do an exasperating eye roll - gel bathing bars. Apparently encouraged by the "phenomenal consumer response of the last year's edition of the signature series," Fiama Di Wills took an "innovative leap forward" with the new range designed to delight consumers with advanced skin care benefits. The series includes oblong-shaped bars in colours such as red, blue and green culled from his own collections. The idea to add the "sizzle and glamour," reads the company release, is to make this series a coveted collectible. Really? Would you hold on to your soap packing that has a designer signature printed on it? Wash your hands off this idea.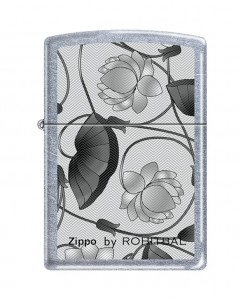 Ideally, a designer's coming together with a brand should translate into a signature look for the product. In that regard, full credit to leading designer Rohit Bal. Known for experimenting with his designs on various platforms, Bal has designed a limited edition Zippo Windproof Lighter (Rs 3,999). His trademark lotus design is unmistakable and makes for a collection's item. And that we feel should be the point.
Home linen is an area that most designers have tried their hands with. After Manish Arora sheets and Sabyasachi towels, the latest to roll out a luxury linen collection is designer Nishka Lulla in association with Portico New York, a home fashion lifestyle brand. The Nishka Lulla collection is creative and we loved the unique vintage hues and eclectic prints in the line-up. Lulla says the collection embodies the nomadic essence of the gypsy spirit. "It was a lot of fun…and all the designs in this collection show a sense of modern luxury that is elegant but still fun and relaxed. I am personally very partial to the Bohemian style and I think the new collection is perfect for the young fashion conscious home-maker." Nishka's designs for Portico are priced at between Rs 2,499 to Rs 5,000.
So are you buying it all? Let us know what you think.
Comments
comments