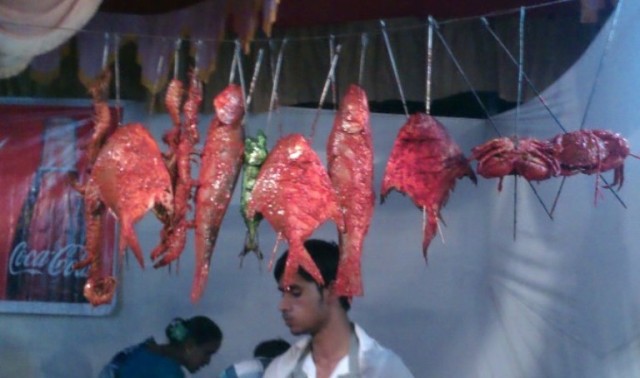 The hottest destination last weekend was not the newest fine dine, starred restaurants but the Mahim beach that played host to a three day Koli festival. Seafood enthusiasts thronged the beach for their fill of clams, prawns and a variety of fresh fish. For those of you who missed it, the Versova Koli festival comes up in just a few months.
The regular Koli diet consists of a simple tangy curry, rice and fried fish. While at sea, the men eat dried fish and rice gruel. Chicken and mutton make it to their plates mostly only at weddings and festive occasions. Vegetables are usually added to the fish gravy instead of being a separate preparation.
Though seafood forms the base for both Malwani and Koli cuisine, Don't confuse the two with each other. Malwani food is known to be spicier wheras Koli food tends to be on the sweeter side. Secondly, the Kolis supplement their fresh catch with dried fish and prawns. Koli food also uses less coconut than Malwani food. The typical tangy taste of Koli food comes from the use of a special Koli masala. The masala is available at general stores but your best bet is to befriend a fisherwoman and order some from her. This potent concoction which gives Koli food its typical taste is a blend of black pepper, red chillies, cloves, cardamom, poppy seeds and black sesame seeds.
Sadly, Koli food hardly ever makes it to a restaurant menu. In a city that prides itself on restaurants featuring food from across the globe it is surprising to note that this cuisine has been ignored. Mahesh Lunch Home, Gajalee, Trishna and the other popular seafood restaurants prefer to cook their fish in the Malwani style. Now do you see why there was such a crowd at the food festival… The only two Koli restaurants that we've heard of in Mumbai are Mi Hi Koli in Thane and Davlari in Kandivali West. We're yet to try them out though to comment on their authenticity.
The best way of enjoy an authentic koli meal in the city is to get yourself invited home by one of your neighbourhood fisherwomen. If that seems impossible the next best is a order and pick up food service by Manisha Dhanu at Mahim. With prices ranging from Rs 80 for Bombil curry to Rs 165 for a whole stuffed pomfret; the food is both reasonable and delicious. They work only with fresh fish off the coast of Dahanu and everything from the masala to the final dish is made within the family. Along with a choice of fish curries pick up some prawn patties(Rs 105 for 4) and Bombil wade(Rs 95 for 4) for a quick snack.
Call on 8082727156 or 9664221002 to place your orders or know about the day's specials.
Comments
comments