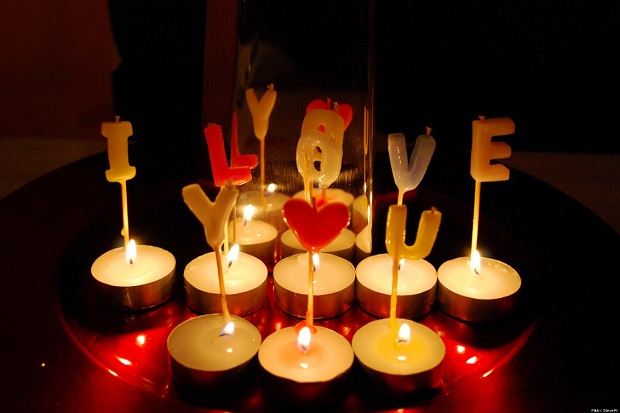 A Gift For Someone You Love 
 Nothing says love like chocolates and hence the ambassadors Ferrero Rocher have brought out limited edition thematic packs. Carrying the picture of red hearts and with the message of "The Golden Gift of Love," the sleeves on the pack highlight the chocolates within. The packs available for sale in modern trade during Valentine's Day include packs of 16 Ferrero Rocher (Rs. 335) and 24 Ferrero Rocher (Rs. 625).
MOST METAL COUPLE CONTEST
Who says metal heads can't be romantic? Canadian medieval metallers Scythia and HeavyBlogisHeavy are teaming up to bring you a very romantic photo content for your Valentine's Day week. If you and your sweetie are the most metal couple you know, and you think you can out-metal every lovebird in the land, then this is a contest.Plus, if you take the cake (or… chocolate covered strawberries…) you'll win a pair of real drinking horns and a signed copy of "…Of Conquest," courtesy of Scythia. Head to HeavyblogisHeavy.com right now to read more about the contest.
DANCE LIKE A STAR WITH ALIA BHATT
If sweating it out and looking sexy while doing it is your thing then Mumbai dance group Stut is offering you the perfect experience. Their 15 class module called Dance like a star is a five week course that'll help you shed the kilos, tone up and learn contemporary dance at the same time. Dancemaker Bhaavesh Gandhi will teach you the ropes with his Bollyfusion and Strut Jazz routine for kids and Bollyfusion and Salsa routine for adults every Monday, Wednesday and Friday starting from February 17, 2014. What's more you get to rock it out with actor Alia Bhatt for the finale. Sounds like a deal doesn't it?
Price: Rs 3500 for entire season and Rs 3200 if three people join. You can buy tickets online here.
When: February 17, 2022 onwards every Monday,  Wednesday and Friday. 7.30 pm to 8.30 pm.
Where: The Workshop, The Hive, 50-A, Huma Mansion, Chuim Village, Khar Danda
Deets: You can visit the Facebook event page here.
It's about indulgence right. Do the whole stretch and relax thing at Grand Hyatt Goa's special Valentine's Day rub-a-dub at Shamana Spa. It begins with a relaxing foot ritual and is followed by strawberry body polish, aromatherapy massage and face care treatment . Hands will be free to sip a refreshing mocktail or a glass of wine while being pampered. Prep yourself for date night.
Duration: 150 minutes
Price: Rs 14000 for couple
When: February 14, 2014. All Day
Where: Grand Hyatt, Near Bambolim Beach, Post Goa University, Bambolim, North Goa.
Call: 0832 301 1603 for details.
THE WESTIN MUMBAI GARDEN CITY
Take the day to spend in pure luxury with your loved one at the suburban five star hotel. Buy their Valentine's Day package that includes a meal at Kangan called "Curries Spices Love." Conceal your message amidst the intricate designs of lacquered bangles. Craft your heartfelt thoughts over a medley of kesar, jaiphal, javitri, gulab, khus and kewra all of Chef Shamsher Ahmed's love inspiring ingredients. Be enthralled with getting a chance to know your fortune with the spice wheel. Then move to Prego for their "Fiesta De Amore." Chef Fabio Maiano has constructed a romantic five course meal. Love Potions at Cupid's Bar will serve aphrodisiac cocktails all night long. The most romantic cocktail will be engraved on Prego's wall of fame. Last but not the least a starry night with delicious cuisines and a romantic atmosphere Seasonal Tastes – Flavors of Love is with a world cuisine buffet. All this with the Heavenly Spa package that you can avail with their Room Package Offer on double occupancy.
When: February 14, 2022
Where: The Westin Mumbai Garden City, International Business Park, Oberoi Garden City, Goregaon East.
Call: 61470000 for details. 
GUESS Watches launches their special Valentine's Day range by going pink this season. Made especially for Valentine's Day, you could choose from the wide range of watches from the perfectly carved open-heart style encased beautifully within the silver toned case with complimentary-coloured crystals. Available in pink-coloured leather strap, be Bold and make a statement with the grand, round molded bezel ensconced amongst shimmery crystals, with little golden polka dots on the dial performing a ballet as every second passes by. Or you could choose from the sleek and petite, metallic watches.
Available at select stories across India.  
Not Just Romance
Forget the intimacy and romantic sweet nothings you can whisper into each other's ears over a quiet dinner, let your hair down and party instead no. Nightclub Trilogy will let you do just that. Not just for couples, their V-Day party is about dancing. Singles come dressed in white and those dating come in red, the Trilogy invite reads glamour.
When: February 14, 2014, 10 pm onwards.
Where: Trilogy, Hotel Sea Princess, Juhu Tara Road, Juhu Beach
Call: 26469500 for details. 

THE RUGRATS: FUNNIEST KIDS IN COMEDY
Actually why do the whole romantic thing at all. If you're single, a V-day hater or actually just looking for a good time, head on to Bandra's newest culture hub called The Hive for a night of funnies with their specially curated stand up comedy show for the night called The Rugrats. The night features the funniest and freshest kids in comedy rip apart your social conscience in under two hours and give you a serious case of LOLs. The comics performing include Aakash Mehta, Akshay Shinde, Dhruv Deshpande, Siddharth Dudeja, and Deep Chabbaria.
Entry: Rs 200. You can buy tickets in advance here.
When: February 14, 2014, 8 pm to 10.30 pm
Where: The Xircus, The Hive, 50-A, Huma Mansion, Chuim Village, Khar Danda
RSVP: On the Facebook page plus other details here.
Candle-Light Dinner for One, Two Or Many
Their offer this Valentine's Day encourages you to spread the love, the "Punjabi way." While that might raise an eyebrow or two, the special buffet they offer seems wholesome and reads death-by-food. The special Valentine's buffet comprises five different categories of dishes and almost 33 preparations. Start your meal with Zaffrani Shorba Mughali, then pick from the variety of Salads and Chaats. Move to the elaborate range of starters like Bhutiyan de kebab, Rangoli Seekh Kebab for vegetarians and Burnt Garlic Chicken Tikka, Murgh ke Sooley for non-vegetarians. Enjoy the scrumptious Punjabi curries like Murgh Makhanwala, Nargisi Kofta to Dal Makhni or Sarso da saag with soft Indian breads from the Phulka trolly,
Price: Rs 1500 for a couple, Rs 2000 for a couple inclusive of a glass of sparkling wine and Rs 3000 for a couple inclusive of unlimited house alcohol.
When: February 14, 2014. All day.
Where: Level 2, Inorbit Malad.
Call: 9004515000 for reservations
Because there ain't no Valentine's Day without some sport, or so feel the Tex-Mex eatery Chili's. Take part in the beer chugging competition, play heart the dart and win complimentary beer and Chili's vouchers  or challenge random diners in a game of Foosball. Work up an appetite to gorge on tacos, burritos, fajitas, chips with salsa for starters and dig into platters of steak, salmon, burger and baby back ribs. End your hunger games with an all you can at dessert menu in Rs 400.
When: February 14, 2014. All day.
Where: 13, Ventura Building, Opp. Dominoz, Central Ave, Hiranandani, Powai.
Call: 6741 9001 for reservations.
Take the Indian fine dine route at Jiggs Kalra's Masala Library. You can trust the experimental Indian restaurant to plate up their dishes with love on Valentine's Day. The eatery's menu for the day will take you on a journey. Upon your arrival, you're greeted with sparkling wine, barf ka gola, compliments of the restaurant. In the salad section, the vegetarians can savour the roasted Shakakandi, while for the non-vegetarians there is the tandoori Prawn cocktail which is served with a combination of arugula salad and melon caviar. The Vada pav inside out is next, followed by Portebello musaalam with mashed pea curry or you could plough into the Bhindi Jaipuri served with some crunchy papad ki sabzi and hand pounded churma. For dessert, there's Warm Jhajariya and New York Cheesecake. Also on offer would be the A la Carte menu where one could order the dish of their choice.
Price: Rs 1900 for vegetarians and Rs 200 for non-vegetarians.
When: February 14, 2014. All day.
Where: Ground Floor, First International Financial Centre, Opposite Sofitel Hotel, Bandra Kurla Complex, Bandra East
Call: 66424142, 8452900900 for reservations.
On offer will be the classic steamed chicken Dumpling and the spinach roll among others. For main course, choose from a plethora Crispy Grouper in Thai Chilli Sauce and Mabo Tofu. Quell your thirst by sipping on an selection of fine drinks like red and white wine. Dig into the Chocolate Hazelnut Mousse or the Raspberry. Enough for a romantic meal for two.
Price: Rs 5500 per couple.
When: February 14, 2014. All day.
Where: Yauatcha Mumbai, Unit 10- First Floor, Raheja Towers Plot C – 30, Block G, Bandra Kurla Complex, Bandra East.
Call:  1800 266 1000 for reservations or mail them at [email protected]
The Lower Parel loft features their most popular options of appetizers, salads, entrees and dessert. Accompanying the four course menu is a perfectly chilled bottle of Chandon Brut with tasting notes of a bright and fresh fruit bouquet of citrus blossom, green apple, hints of tropical fruits and vanilla. The menu itself offers a choice of any two dishes from their four course menu that includes dishes like Baked Goat Cheese Xangles, Cheese Plate, Meat Plate, Sea Spoon in appetisers,  Marinated Watermelon Layered with Feta and Smoked Salmon with Various Citrus Flavours in salads, Penne with Fresh Pesto, Kaffir Lime & Mascarpone Risotto, Pan Seared John Dory in entrees and 3 Layered chocolate cake, Warm Cheese Cake and Hazelnut Mousse Torte in dessert.
Price: Rs 5000 per couple.
When: February 14, 2014. All day.
Where: The Tasting Room Mumbai, Raghuvanshi Mills, Lower Parel,
Call: 2495 1954 for reservations. 
For starters choose from the Brie Souffle, Wild Mushroom Tart and Grilled Asparagus. The entrees consist of the taste rejuvenating strawberry glazed chicken, Bronzed Sea Bass or like the chef's open heart go in for the Chef's Open Ravioli. After this bite into the Dark Chocolate Fondue or the Red Velvet Hearts. The owls promise to hoot.
Price: Each item priced separately.
When: February 14, 2014. 7 pm onwards.
Where: The White Owl, One Indiabulls Center, Lower Parel.
Call: 22 2421 0231 for reservations.
Why stay in the city. Take a flight out to the island state and check into the hotel for a weekend of delicious binging. On Valentine's Day, the hotel's eatery properties offer a fairy-tale dinner under the stars. Enjoy the privacy and intimacy of exclusive dining amidst the cool breeze of the Bambolim Bay and the glory of a vivid sunset as your backdrop. Their 3D specialty cakes offer something special. Take your pick from a variety of customized chocolates. Book a romantic dinner for two at the Private Dining Room at Chulha. Enjoy Indian and specialty Goan cuisine along with a selection of fine wines in the perfect rustic setting.
When: February 14, 2014. All day
Where: Grand Hyatt, Near Bambolim Beach, Post Goa University, Bambolim, North Goa.
Call: 0832 301 1234 for details.
Enjoy a special menu created by Chef Chong Chee Loong. The Valentine's Day menu at Hakkasan opens with a welcome drink of Peach Bellini which followed by starters such as Chicken Shu Mai, Crispy tiger prawns with pandan leaf and wheat flakes and Stir fry mushrooms in hakka spicy sauce. Main dishes include Stir fry duck with ginger and onion, Lotus root and asparagus black pepper, Sanpei chicken clay pot. After dinner guests can indulge in desserts such as strawberry vanilla pana cotta with elderflower.
Price: Rs 3500 per person.
When: February 14, 2014. 7 pm onwards.
Where: Hakkasan, Krystal Building, Waterfield Road, Bandra, Mumbai West.
Call: 26444444 for reservations. 
Toast to your special someone with a glass of Strawberry Sangria and follow it with Watermelon Feta Cups, Red Onion and Thyme Consommi or Fresh Cherry Tomatoes Oyster chicken. Entree choices include Kumquats Risotto with Water Chesnut, Blue Cheese, Parmesan, Walnut Chikki and Oven baked free range Chicken Medallions. For dessert enjoy the spoils of Strawberry and Figs Chocolate Fondue. Enjoy your experience in the beautiful alfresco dining area.
Price: Rs Rs 2500 per couple.
When: February 14, 2014. 7 pm onwards.
Where: Otto Infinito, Raheja Towers, Bandra Kurla Complex, Bandra East.
Call: 26567777  for reservations or mail [email protected]
Indulge in Serafina Mumbai's Special Valentine's menu "Festa San Valentino," featuring delicacies like Gnocchi di Pesto Genovse, Petti Polloalla Parmigiana, La Pizza pieno di Amore', a heart shaped pizza, and a dessert platter Amanti Dolci Assortiti and a lot more. A three course meal of special Northern Italian delicacies includes two glasses of signature Sula Rose Brut Sparkling wine.
Price: Rs 2000 per couple
When: February 10 to 16, 2014.
Where: Serafina, Palladium Mall, Lower Parel.
Call: 40237714 for reservations.
Comments
comments