When:
September 21, 2022 @ 10:00 am – September 23, 2022 @ 3:00 am
Where:
Radisson Blu Resort Temple Bay
57 Covelong Road
Mamallapuram 603104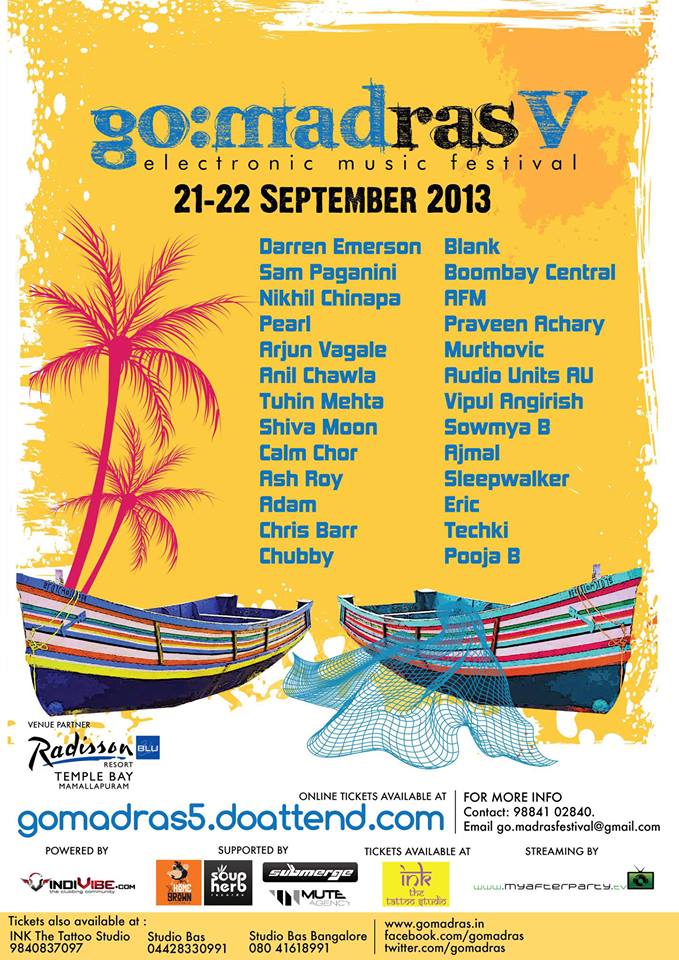 The GO:Crew are extremely proud to present the 5th Edition of The GO:MADras Festival, a magnum opus called GO:MADras 5. The festival will take place over two days, 21st and 22nd Sept at the Radisson Temple Bay Resort in Mahabalipuram, with a dedicated after party for our VIP guests. Temple Bay is Chennai's flagship beach resort and will form the perfect setting for the 5th Anniversary celebrations of Chennai's most loved musical event.
" LINEUP "
DARREN EMERSON (UNDERWORLD) UK in associations with The Legends Tour
SAM PAGANINI (DRUMCODE/COCOON) IT
NIKHIL CHINAPA
PEARL
ARJUN VAGALE
ANIL CHAWLA
ASH ROY
TUHIN MEHTA
SHIVA MOON
CALM CHOR
CHRIS BARR
BOOMBAY CENTRAL
BLANK
AFM
PRAVEEN ACHARY
VIPUL ANGIRISH
AUDIO UNITS AU
ADAM
AJMAL
MURTHOVIC
SOWMYA B
SLEEPWALKER
POOJA B
ERIC
TECHKI
PRESALE EARLY BIRD REGULAR 2 DAY PASS -
Rs 2,500 per head
Entails access for one person to the festival on both days from 10AM to 10PM.
PRESALE EARLY BIRD VIP PASS -
RS 4,500 per head.
Entails access for one person to all VIP areas of the festival and the afterparty from 10PM to 2AM. VIP guests will have access to a special VIP bar with table seating for groups, premium imported spirits, wines and champagnes.
Comments
comments