When:
November 1, 2022 @ 5:00 pm
Where:
Marine center Vashi
Sector 11
Vashi,Navi Mumbai
MH

Contact:
Jeff Dani (Metalogy)
09920626035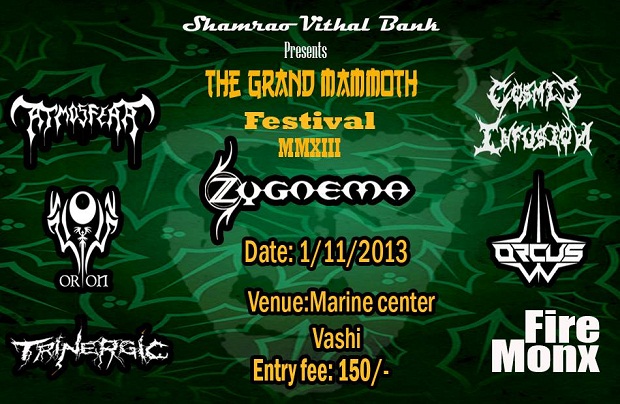 Navi Mumbai seems to be raising the bar on the metal scene in the region, with massive line ups playing gigs here every two or three weeks, and the latest gig announced here is the seven-band "The Grand Mammoth Festival MMXIII" happening at Marine Center, Vashi on November 1, 2013. Sponsored by Shamrao Vitthal Co-op Bank, this is one pocket-friendly gig you need to be at if you are a metal head! The bands playing at the gig include:
Zygnema: The Mumbai giants of thrash groove are going to be playing in the city after a good four months, and will be headlining the event.
Cosmic Infusion: The corpse-painted symphonic black metal brigade will be playing material from their self-titled EP, and hopefully more!
Atmosfear: The three-member death groove act have been wowing audiences wherever they play, and for the tightness and musicality they display, it's no surprise they are among the most liked live acts around!
Orion: The progressive death metal act have played a string of events across the city, only recently playing at Bengaluru.   
Also playing at the gig shall be melodic death metallers Trinergic, groove metallers Orcus and hard rock/ heavy metal outfit, Fire Monx.
For 150 bucks a pop, why in the world would you miss this gig!
Comments
comments