When:
December 8, 2021 @ 9:00 pm – December 9, 2021 @ 1:30 am
Where:
Blue Frog
Mathuradas Mills Compound
Senapati Bapat Marg,Lower Parel
Mumbai 400013.

Cost:
Rs. 350 post 6:30pm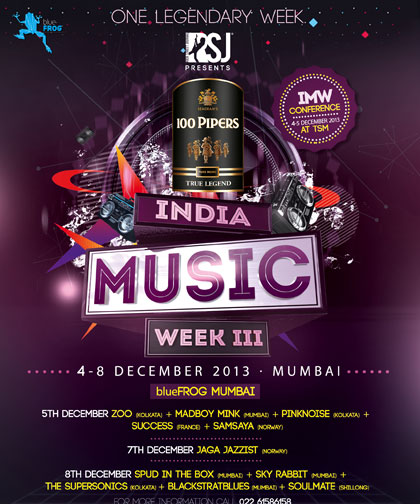 Spud in the Box is a six piece alternative pop/rock band formed in March 2011 in Mumbai. It involves the musical energies of Vivaan Kapoor on drums, Zubin Bhathena on bass, Rohan Rajadhakshya on vocals and keyboards, Ankit Dayal on vocals and guitar, and Hartej Sawhney and Siddharth Talwar on guitars.
Mumbai-based Sky Rabbit (formerly known as Medusa) defines their sound as electronic/ alternative. A formidable quartet of Mumbai's most gifted youth, Raxit (Vocals/ Samples), Rahul (Guitar/Samples), Siddharth (Bass) and Harsh (Drums) have stumbled upon somethingunique, merging electronica with indie and post-punk styles.
Blackstratblues is a solo project of Warren Mendonsa, who is a guitarist, songwriter, producer and recording engineer. Warren got his formal start in music in 1998, forming Zero with childhood friends Sidd Coutto and Girish & Rajeev Talwar. Over the years, Zero grew to enjoy nationwide popularity in India, winning competitions like IIT-Mumbai's Mood Indigo and RSJ's Great Indian Rock.
Inspired by the roots and groove sounds of the Blues, Blues-rock, Soul, Rock 'n Roll, Funk and R&B, SOULMATE came together in Shillong in February 2003 and since then have played numerous gigs all over India as well as abroad. They have played in Kathmandu (Jazzmandu), France; they toured the USA playing in Memphis TN., Brown University, Rhode Island & Colorado and were twice semi finalists at the 23rd & 26th International Blues Challenge, Singapore (Mosaic Music Festival), Bhutan & Indonesia (Jakarta Blues Festival). In September 2011 they did a successful 4 city tour of Norway.
Comments
comments