There's no rest for the wicked and no respite from fashion crimes. Each year the Indian contingent visiting Festival de Cannes, which ended on May 26 this year, grows manyfold and so does the fashion disaster increase in many a stitch. The Cannes India faux pas 2013 scaled new heights, went where no drape, cut or fabric has gone before. And the irony of it all – this was India's year at Cannes in honour of our cinema completing a 100 years.
For most nations, brands and film studios, walking the Cannes red carpet is a matter of pride. But Indian style statement atleast makes a sweeping rebuttal. From Amitabh Bachchan to Vidya Balan, Ameesha Patel, Sherlyn Chopra to Puja Gupta (yes they were there too) – our very best step forward seemed to be draped in mediocrity.
Let's break this down sequin by sequin and analyse what went wrong and why the fashion police sleeplessly patrolled India's show at Cannes.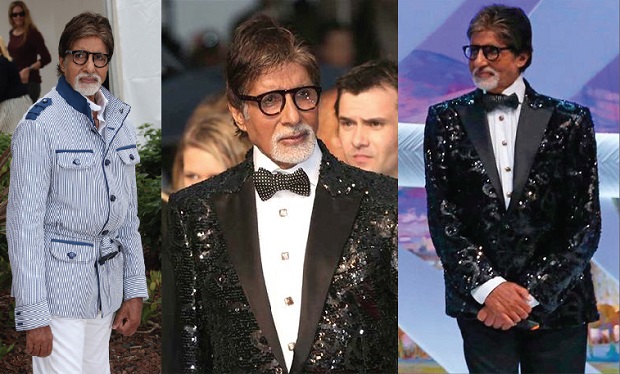 The otherwise Armani-clad, dapper Big B practically made us weep with his bad choice of attire. At his first appearance at "The Great Gatsby" photo-call, Big B wore a striped jacket and white pants complete white shoes. Jeetendra much? The sailor look was unflattering and only seemed to accentuate his paunch. White shoes, really? Don't you think you went one step too far? Ahoy!
His second appearance at "The Great Gatsby" screening saw him in what can be described as a Gatsby-swag gone wrong. I am sure Scott F Fitzgerald was squirming, wishing he stated clearly in his book that sequins don't make for a classic. The sequined suit supplemented with a polka dotted bow tie looked straight out of a Bollywood dance sequence. A polka dot bow tie is only acceptable if it sits pretty on a little girl's locks. With all the money and stylists at your disposal, how could anybody go so impetuously wrong? Being an Indian doesn't imply you Bollywood-ise everything with bling and baubles. Why did not this otherwise well-dressed actor go the Armani route is something we fail to understand.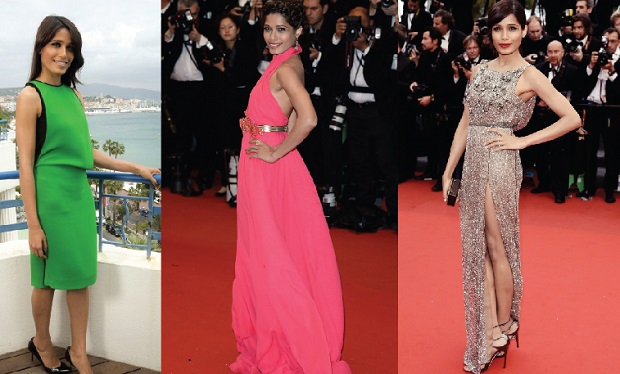 Ms Pinto is not the quintessential beauty armed with classic good looks and Barbie doll porcelain skin, but she managed to look classy in her maiden appearance at Cannes 2013. As brand ambassador for L'oreal, she showed up at her first morning photo-call in a gorgeous green and black trimmed knee length dress with a clean silhouette. The look, though minimal, was very well carried and she looked carefree and gorgeous with her hair left loose, with nothing but her smile to accessorise. Too simple to appeal to the Indian palette, Pinto fits in perfectly with all the international stars at this global platform.
Come night and we saw her on the red carpet in a flowing fuchsia Gucci gown, dressed to the nines. With a gold belt to accessorise, Pinto looked well in tune with "The Great Gatsby" screening she was attending. The pink gown did justice to her glowing dusky skin. With her hair braided and tied up in a no fuss manner, she looked elegant. She almost got it correct, except for one flaw. As a face of a major international cosmetics brand, Pinto's makeup was dull. All in all, this look won her brownie points from the ravaging Cannes critics. And, us of course.
Her third and final appearance at Cannes was in a silver Sanchita Ajjampur sequin gown. The gown was a tad bit boring. But she got her make-up right this time with dark, berry lips and her hair swooped up with a gentle twirl of strands adorning her forehead. What we really liked about Pinto was the fact that being an Indian at Cannes was represented well by wearing an Indian designer and not necessarily an Indian attire. Having worked in Hollywood, she got the correct balance. Jai ho to that!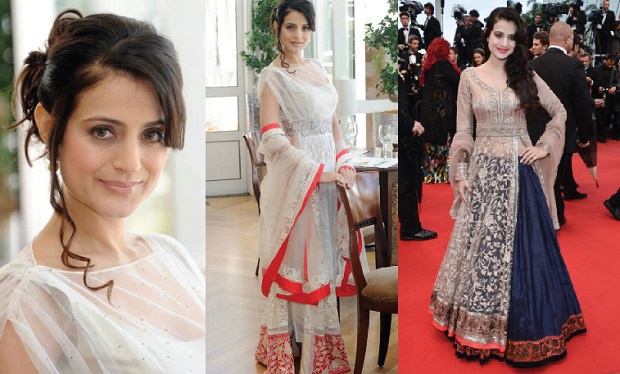 A few of things that come to mind when you think of Ameesha Patel - publicity hungry, bad taste and get out of my face! Visiting Cannes to shop around her movie, "Shortcut Romeo," Patel wore her personality with elan, as that of a connoisseur of bad fashion. The morning of the movie portrait session saw her wearing a cream, white and red outfit with beautiful embroidered by Bollywood's favorite designer Manish Malhotra. The sheer fabric and the shy cream colour palette was a good choice made. Her hair was tied up except that tacky curled strand falling on her face. We thought us Indian women had moved on from that post the 1980s?
Just when we thought she had raised the bar for herself, she proved us wrong a few short hours later. Still clad in Manish Malhotra, she showed up on the red carpet in an outfit that was loud and garish to compliment her make up that could also be aptly described by those very same adjectives. We heard about your blood baths, but this? We heard "Twilight" is casting.
The peach and blue lehenga made her look like she was ready to walk down the aisle at Cannes. Need we remind Malhotra that this is not a Karan Johar family drama? Not that she'd have such luck to star in one.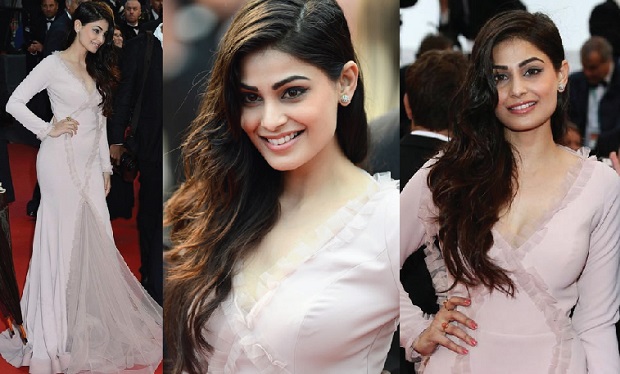 Accompanying Patel on the red carpet was Shortcut Romeo" co-(non)star Puja Gupta. The only refuge Patel had that evening, was that Gupta was dressed far worse than she was in a forgettable pale pink gown. Even Patel's make up looked brighter and more alive than her dress did.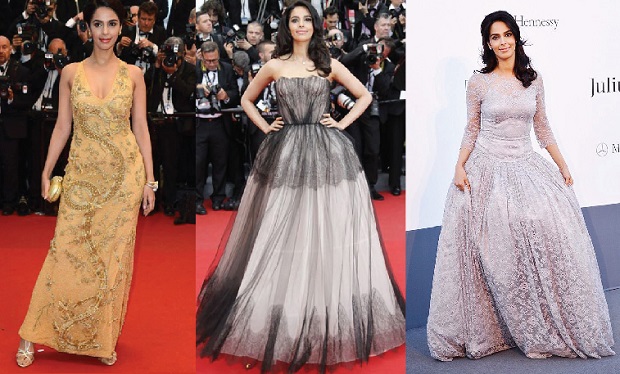 We almost did not recognise this busty lass with her goods fully covered. Reflecting ample curves and poor taste, Mallika made her first appearance in a gold Emilio Pucci beaded gown, complete with a gold cuff and clutch. Her all-gold look was boring, and might I add that nobody has ever accused Emilio Pucci of being boring. She could have been melted to put to better use. Appearance deux was more forgivable when Sherawat walked down the red carpet in a Dolce and Gabbana full skirted dress. The tulle and lace dress in nude and black was gorgeous, but I believe justice was not served when Sherawat wore it. There is no denying how stunning the dress was, but there was a missing piece in the puzzle, something I can't quite point our finger to. Her third and final outfit finally helped us piece it together. Her silver/grey lace dress was where bridal dresses go to die. Enough said.
Maybe we can blame it on her new accent, check out this video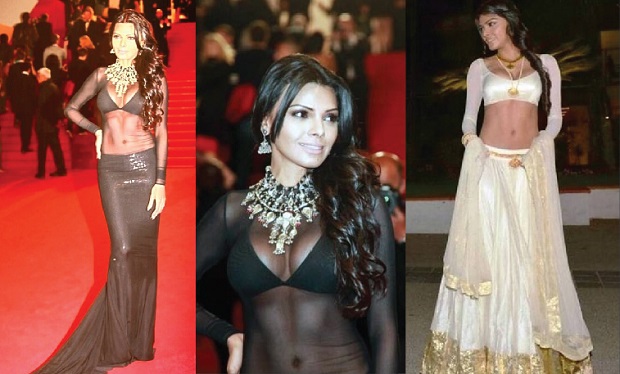 The new Mallika Sherawat on the block, Chopra did at Cannes what she best does: reveal. To promote her upcoming movie "Kamasutra 3D," her first appearance was in a black sheer lehenga that left not much to the imagination. While her cups runneth over, she channelled a walking, talking boob. Oh Ms Sherawait, you have been replaced and how! Her second look was a white and gold lehenga, reminiscent of an outfit Sherawat first wore at Cannes. Her clothes, not unlike her, looked tacky and off the street. With a plunging neckline acting as a booby trap and a lehenga worn so far low, she modeled her look after the seductress she plays in the film. If you ask us, she could very well have been there to promote "Savita Bhabi The Movie."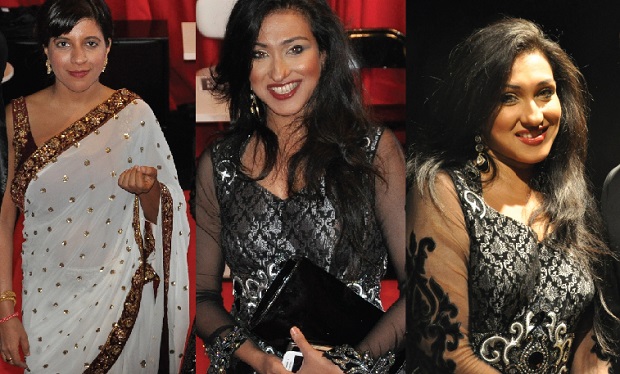 Usually sporting a western avatar, Akhtar was spotted wearing a white and red Manish Malhotra sari on the red carpet at Cannes, to attend the screening of "Bombay Talkies." What could have been a welcome change came across as a shock instead. The white sheer embroidered sari with the burgundy blouse was a look that was well suited were you attending a wedding sangeet back home in India. A classic example of how we feel compelled to wearing a desi attire simply because we are representing India at a global platform. And, correction we don't represent India so much as we do Indian cinema. So her sari look was shot to shit.
Who exactly she is beats me, but I will now fondly remember her as one of the flash bulbs at Cannes. Dressed in a sparkly silver zari brocade dress, the look was bad even for a Filmfare red carpet let alone the Cannes red carpet. I believe that if these actors do get a moment to shine, why do they take it upon themselves to shine in a literal sense? A good outfit can get you noticed just as much as a bad outfit can, so why the trade off? To sum it up, she looked like the fashion equivalent of a road kill.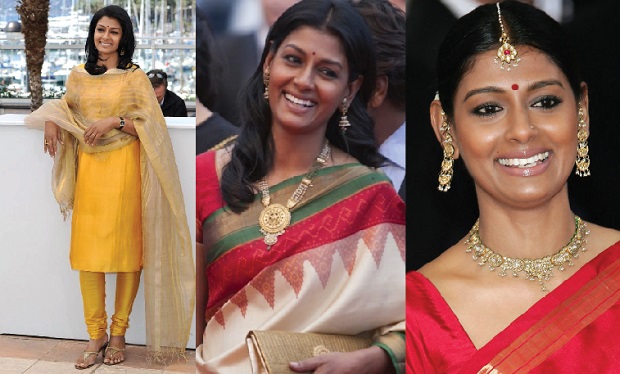 She was the only Indian who held her own at Cannes this year. Dressed in traditional saris day after day, Nandita Das looked very comfortable in her skin. Nothing about her appearances seemed desperate, in fact she stuck to what she does and knows best. I think that brighter lips and maybe heavier accessories could have helped her looks stand out a little, but the fact that she didn't, spoke oodles about her self-confidence and is exactly what makes me applaud her rather. From her yellow churidaar kurti, to her magnificent two-toned sari, all of her looks were earthy and ethnic.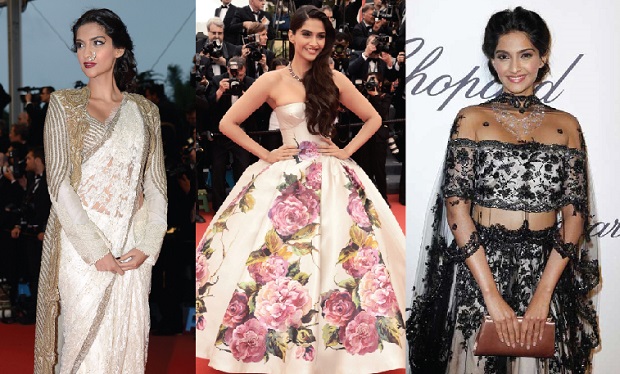 The Indian fashionista had a lot of expectations to meet this year at Cannes. She was first spotted at a photo-call with Frieda Pinto in an outfit that was … sorry I can't quite remember it because I was blinded by those earrings. Her first appearance on the red carpet was in a white and gold Anamika Khanna sari. The sari, was accompanied by an embroidered trailing jacket that added an element of twist to the otherwise regular sari. A risky look, though Kapoor carried it off well and with much poise. What grabbed a lot of eyeballs though, was the large nose ring she had accessorised it with. My maid sure is happy about this development. The jadau nose-ring she wore was slightly out of place, but because she carried it off well. Her make up was spot on with dark lips and winged liner.
She followed this up with a Dolce and Gabbana floral full skirted gown. The gown fit her well, and her cascading curls added to making this more ethereal. And, just when we got comfortable with the popcorn and the lemon bitters, we were subjected to a nail biting scene in the third act. Dressed in a Snehlaa creation at the Chopard Party, Sonam looked garish, and loud in an off shoulder silver and black lace lehenga. With an ornate diamond necklace to accompany, and an aunty clutch to go with, this look could potentially become unforgettable for all the wrong reasons.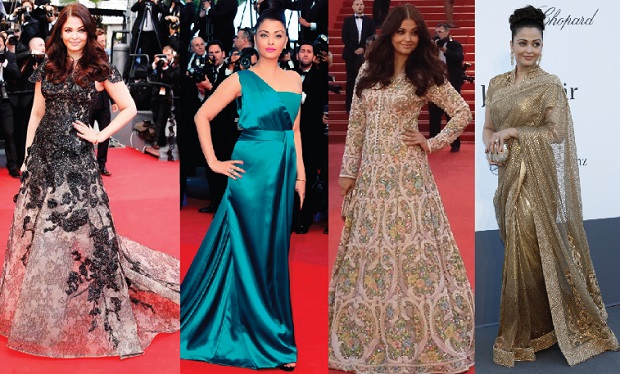 The new mommy in town appeared to have shed a few kilos that seemed to have been bothering most people, and looked visibly fitter this Cannes. With an assortment of clothes from Indian designers to stalwarts like Gucci, Bahu B showed us an improved sense of style overall. One of her first appearances at Cannes was in a black and nude, sequined Elie Saab gown on the red carpet for the screening of "Inside Llewyn Davis." With her hair left loose and minimal make up this look was drama free and the need of the hour.
In succession to that, she wore a black and gold Sabyasachi lehenga-sari with a black full-sleeved blouse at the 100 years of Indian cinema gala. What in the name of god is a lehenga -sari anyway? The gold bling stood out stark and harsh against the black, and what made matters worse was her headgear. The Sabyasachi designed head band a la "Gossip Girl" reflected bad taste and looked completely out of place given the look. Maybe she borrowed it from her daughter. Aww no!
Post the Sabyasachi debacle, Ash showed up in an Abu Jani, Sandeep Khosla creation. The pastel dress though intricately embroidered, looked more like a drape of a vintage sofa. With her free-flowing locks and her make up simple, the look was washed out and nothing about her outfit or make up stood out.
She followed this by her most spoken about outfit at Cannes 2013 - a teal blue Gucci gown. While at first glance the outfit appeared passable, on closer inspection we found ourselves eating our words. The dress was a size too small and highlighted her flaws. With her paunch notably visible and with her boobs spilling over, the satin Gucci was a bad call. Her make up was hardly noteworthy, but her hair style sure was. Her top knot put emphasis on her chubby face that doesn't seem to have lost that "baby fat" as yet.
Dressed for the amFAR's Cinema event, Ash took the word gold in the invite too far when she turned up at an event in a gold sari, gold clutch and loud jewelry. The paparazzi was blinded for a second when they thought Bappi Lahiri had arrived. This outfit was an epic fail, and unlike Sherawat who also wore an all gold outfit, we expect better from you Ash.
What we established though, is that she looked stunning off the red carpet on two occasions. The first being the media call, at which Ash looked stunning in a Zac Posen skirt paired with a white YSL button down. Her second appearance at a portrait session saw her wearing a lace trimmed black power suit complete with a vest. The black effectively camouflaged her weight and those stunning red lips and luscious locks complimented the look well. Minimal and chic, we wished we had seen her wear something as sophisticated, on the red carpet.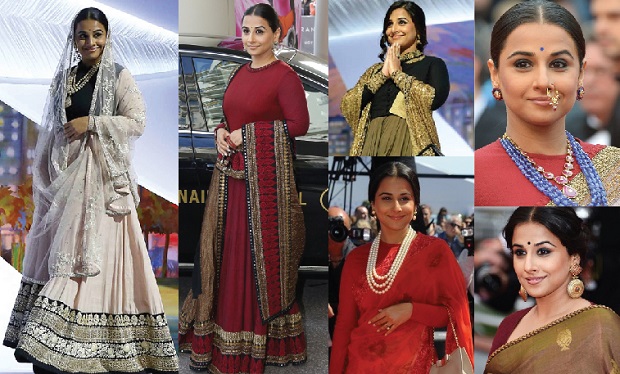 We were saving the worst for the last, so we could savour the desert cherry by cherry. Ok so, where do we begin? Firstly, it was an honor for India as it was for Vidya Balan to be on the jury of Cannes Film festival. Balan known back at home for her disastrous style remained true to history and did not disappoint us. What started with a bad look, ended up being a series of bad days.
Her very first appearance at the opening ceremony in an earthy maroon Sabyasachi lehenga was a preview of the things to come. The choli with a closed neck and full sleeves, was boring and old school. The lehenga had beautiful mirror work and embroidery at the bottom in black and gold, but the boring choli stole from it completely. Her hair and accessories sang tales of boredom too, with her hair tied in a fishtail and parted right in the centre, while her sole accessory was her Amarpali jhumkis.
At the opening ceremony of the Cannes film festival, Balan wore a cream and black lehenga. The border was beautifully done, but the dupatta on her head was taking it too far. She looked more like a Maharani circa 1960 than an actress circa now, which was the glitch. Here, while we as a country are trying to fight the stereotype of snake charmers and bullock carts, outfits like these just re-enforce those ideas. One doesn't even dress that way in India anymore. Then, why the Cannes?
The second day saw her wearing a similar choli, with a Sabyasachi sari. The sari in itself was forgettable, especially more so because it was paired with a string of blue beads. Why those Colaba-esque stones? With a small potli and the same hairdo as the previous day, the highlight definitely was the nose ring. Talk about fads! From Kapoor to Balan, all in a day's time.
We then saw her in several looks that involved closed-neck blouses, strands of pearls and all that jazz. Was this the same Vidya Balan who thrust her ample bosom in "The Dirty Picture?" Now she seems shy to bare even her arms. Once bitten, twice shy?
Irrespective, her hair style remained a constant and so did the colour palette. Relief flooded over on day five, when Vidya finally opened up (literally) to a better look. With an open-neck blouse and a brown-gold sari, Vidya Balan looked well-dressed with statement earrings and her mirrored potli to accompany. Her hair, though tied, looked relaxed, and in-fact so did her whole demeanor.
We can't blame Vidya Balan for the Cannes debacle, but Sabyasachi as a designer should have known better than to dress her in that garb. Agreed that Vidya has packed a few extra kilos, but one can still be dressed elegantly without covering every inch of their bodies in an unflattering manner. And, revival of handloom and khadi apart, her look was very costume-y and gimmick-y.
With the Cannes shenanigans behind us, we can only hope that these faux pas are not committed over again next year, though we only say that half-heartedly. Not only did Cannes 2013 celebrate 100 years of Indian Cinema, but it also ended up looking like a Bollywood film set complete with bling and a bunch of gora extras. We say it as we see it!
Comments
comments