Direction
Acting
Screenplay
Cinematography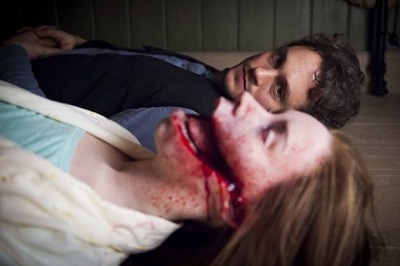 "I can feel my nerves clicking like roller coster cogs pulling up to the long, inevitable plunge," Will Graham (Hugh Dancy) shares his inner most fears in a desperate call for help with new-found friend in Hannibal (Mads Mikkelsen). The line braces you for the inner turmoil of Graham's that's beginning to spill over. His nightmares (constantly seeing his first on-duty duty kill of Garreth Jacob Hobbs), delusions of reality (empathising with the killer to the extent of reliving a whole kill scene design) and hallucinations (of becoming the killer and losing time to find himself in unfamiliar environments) are becoming all too vivid and real for him.
Graham is not well and sees himself slowly metamorphosing into a killer with every crime scene he visits. In this particular episode, he contaminates the crime scene where he sees himself pulling back the facial skin of a victim as the killer would have done. A diseased, jaundiced, malnourished young girl, Georgia Madchen, suffering from Cotard syndrome, where she thinks she is dead, kills her former best friend by pulling her victim under her bed. She feels invisible and somehow resonates with Graham.
Lecter takes Graham down to his neurosurgeon friend, Dr Sutcliffe's clinic where over a battery of blood tests and scans, the two discover the cause of Graham's illness. He suffers from an auto-immune disease encephalitis that has taken over his entire right side causing his hallucinations and delusions. Harris' Hannibal could smell his victims fear, inhibitions and diseases. Show creator Bryan Fuller's Hannibal makes his sense of smell known in this episode as he tells Dr Sutcliffe that he had already smelled the disease on Graham before the scans came up. Just in case you wonder what it smells like, Hannibal describes "It has heat, a faint sweetness."
As the episode follows, another kill is made and served (Dr Sutcliffe by Hannibal of course), Graham is kept in dark about his illness. We will leave the spoilers this time.
Watch the promo of the 11th episode:
The 11th episode of "Hannibal" will air on Friday, June 14, 2022 at 10 pm on AXN.
Comments
comments