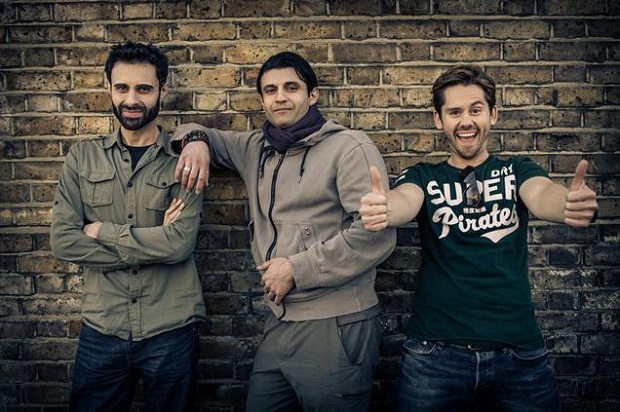 While Bollywood is still taking its time to indulge in a remake of the 1970s classic, "Amar Akbar Anthony," a new Brit-Asian film has started the shooting of "Amar Akbar and Tony," in West London. The ensemble cast, featuring some of the community's most recognised celebrities alongside talented newcomers and familiar home grown talent, celebrates multiculturalism within the UK.
An independent production by writer and first-time film director Atul Malhotra, "Amar Akbar and Tony" is a coming-of-age comedy and is scheduled for release in the second half of 2013.
It revolves around three best buddies, but this is where the similarities with the Bollywood film ends.
The cast  includes Rez Kempton, Sam Vincenti and Martin Delaney as "Amar, Akbar and Tony" respectively. While Kempton was seen in the 2009 film "Life Goes On" and earlier in "Spooks," Vincenti was in the TV Series "Waking The Dead" and Delaney in Katherine Bigelow's Oscar-winning "Zero Dark Thirty."
The film also stars the multi-talented actress and singer/songwriter Karen David, famous for her starring roles in the hit BBC drama "Waterloo Road" and the "The Scorpion King 2 - Rise of a Warrior." Karen plays Meera who arrives from India as a new bride. On the surface things seem fine but her marriage is far from happy and despite the odds, Meera struggles on.
Also starring Laura Aikmanas Samantha, a struggling actor who has visions of hitting the big time but settles for small theatre roles in the meantime.
Goldy Notay who is best known for her work in "It's A Wonderful After Life" and "Sex And The City 2," plays Sonia, Amar's flirtatious and wayward sister.
Malhotra's vision is to represent British Asian culture and explore all its complexities from a male perspective. "My vision is to portray on film, the self-assuredness and determination of the multicultural youth of today. There have been so many portrayals of Asian people wanting to escape from their cultural heritage, but I wanted to explore the contrasting angle. The film will embrace the vibrancy and distinctiveness of this influential culture and will wear its Asian heart proudly on its sleeve. My film is a celebration of the bonds that tie us together through friendship, love, loss and ultimately redemption."
A graduate in film and media, Malhotra's made award winning short films and documentaries like "If It Don't Kill Ya," ITV documentary "Big Time" about a dwarf rock band trying to be taken seriously in the music business, and comedy and entertainment shorts for major TV channels in UK.
Comments
comments