Direction
Acting
Screenplay
Cinematography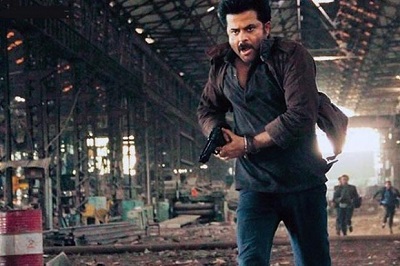 F
You know what's a killjoy? When a well-planned surprise is sabotaged by spoiler alerts. And that's what is happening with "24″ – the channel, unwittingly, keeps replaying the aane wala time, and for a couch potato like me, the coming soon reruns really ruin the element of shock. By piecing the preview, I could easily figure out the next step, that sucked the fun out of the viewing.
Hours five and six continue with the search for the traitor in ATU, saving Jhanvi, digging for clues and looking for Kiran (Sapna Pabbi). Yes, it's still moving at a similar plot and pace of the original "24," and I won't lie about a couple of chuckles that it evinced.
Like the hospital scene in episode five, where the lady employee at the front desk starts lecturing a harassed Trisha (Tisca Chopra). Trisha, on the other hand, stumps us with her lack of reasoning – maybe her missing child has impaired her power to think, but she steps on one landmine after another, and by episode six we all know what we figured in episode four that the man posing to be Abhay Gupta is not Abhay Gupta (Ajinkya Deo). Meanwhile, Jai Singh Rathod (Anil Kapoor) carries on the witch hunt, and is lead to a body – that of the real Abhay Gupta. He gets a call from Yakub (Ankur Ajit Vikal), the terrorist, who tells him to walk to a silver Tata Safari and open the glove compartment.
No, where is Kiran? Rathod insists first. And pop comes up Kiran's video on the phone – a part of me wished she had screamed – six feet, beard, tattoo moon star (remember Liam Neeson's gripping kidnapping drama "Taken?"). "It's ironical how you guys get better technology and equipment than us," Rathod cracks a seriously toned joke with Yakub. Motionless, Yakub directs him like a dummy – "open the box, you will see a Bluetooth, wear it, to test it say something, and now drive."
I was smiling by the end of this…was Jack Bauer really doing all this in Season One of "24?" Actually that was what, almost a decade back, and yeah, Bluetooth was big then. Now, it's just another retro gadget.
In between, we are given a taste of the whiff of  the country's future first family – the Singhanias. The elder daughter in law, Naina Singhania's (Anita Raaj) late husband's late brother's wife Divya Singhania (Shivani Tanksale, this is so much like our real first family) turns up, and demands a VIP pass to the rally. No, says Naina, because "you betrayed us the day you joined the opposition." Ring any familiar Gandhian bell?  Senior Mrs Singhania (Sujatha Kumar) frets and fumes and warns Naina to count her days in power. Hmmm…are we sensing a scheme in action?
That is yet to be seen in the "coming soon," but here's the wrap up – fake Gupta manages to snuff out the life out of Jhanvi and kidnaps Trisha, who comes to know when Nikita (Mandira Bedi) calls her saying Jai is unreachable. Seriously. If there is high security concern, you don't call the wife of the Chief. You track the Chief or leave a message. That is why it is called Top Secret.
"24 India" airs Friday and Saturday at 10 PM on Colors. You can also catch full episodes on thechannel website. 
Comments
comments