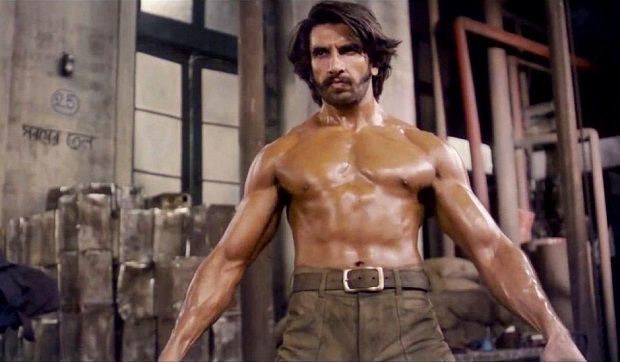 On the previous episode of "Koffee With Karan," that is fast becoming Bollywood's favourite gossip couch,  Abhishek Bachchan and Farah Khan both echoed a thought that found an urgent nod-in-agreement in Karan Johar. "They all have six packs and there's no chest hair." Bachchan even confessed he'd never toe the line of the waxed chest brigade of the current crop of actors, from Ranbir Kapoor, Ranveer Singh, Siddharth Malhotra, Varun Dhawan, Sushant Singh Rajput and Arjun Kapoor. "My mother always said 'never trust a man with no chest hair,'" he retorted. He didn't mind going all velvet on the show along with Johar though (even if it's Tom Ford, it's still smooth velvet on a man). But that's about as far Junior Bachchan will go in the sausage packaging wardrobe department it seems. Personal grooming is another matter altogether.
Jr B has a pertinent point to make though. Last two week's releases: the romcom "Hasee Toh Phasee" and the gunda-fest "Gunday" starred actors who are fast making their careers on the slippery, bronzed and heavily oiled backs of their topless machismo. Not so much Malhotra who softened his cheeks, lips and wardrobe for the former movie. His only crime post his "Student Of The Year" sheer-shirt-button-opening and wide-armed exposure in front of a burning tree (we all remember Ishq Wala Love), was his waxed chest peek show here and there. The real show happened on Valentine's Day, where we feel, Bollywood's ploy to rope in all single ladies was to make "Gunday" their ideal "female friendly" fantasy for the day. How else would you explain two fully oiled-up gents entering into a murky, dingy warehouse surrounded by charcoal, some cinder blocks even embering away creating palpitating smoke and heat and wrestling with one another. I bet most of these are keywords for an optimised porn search. They were fighting for the love…of another it seems, but really this could have been passion play.
Bollywood's biggest production houses have found the perfect male equivalent to the item song; oiled six packs. While the Katrinas and the Kareenas will shake their all for a few tantalising moments to make any picture dirty. The Singhs, Kapoors and Khans will bronze their bodies, and do the sensual angry nautch fight sequence till Kingdom cum come. Singh first doused himself in oil for Sanjay Leela Bhansali's "Goliyon Ki Raasleela Ram Leela" that released in 2013. But he was definitely not the first one to go topless. We have for most bulk of the 1990s and early Naughties blamed Salman Khan (Oh Oh Jaane Jaana in "Pyaar Kiya Toh Darna Kya"), and later Shah Rukh Khan ("Main Hoon Na"), for going topless and prancing about the dancefloor ahead of a bevy of fully-clothed backup dancers in just a pair of tight blue denims and teasing us with their waxed six packs. Soon the packs seemed less and eight became the minimum number when Aamir Khan ("Ghajini") and Hrithik Roshan ("Krrish") battled for muscle glory nearly a decade ago. Soon John Abraham shed to his golden cycling shorts adding toned thighs ("Dostana") to the must-have specs of the ideal Bollywood hero.  Heck even Ranbir Kapoor dropped her towel ("Saawariya").
Since then our beauty standards for men have risen at an equal, if not higher, pace as the bikini-bod standards have for women. Till Ranveer  Singh doused himself in oil, male actor vanity only included eight-packs, waxed chests, shaped eyebrows, gloss and a height of dandruff-free, silky, non-frizzy hair. The tash and the stubble made a guest appearance every now and then. But now, one wonders if actors like Abhishek Bachchan will eventually fall into the trap and sculpt their bodies to what is fast-becoming an industry standard? Will he then maybe sign more single-lead movies? Or will he have the fortitude to join the league of equally brilliant but far less vain leading men like Irrfan Khan? More pertinent. Will Ranbir Kapoor too suit down and coat up?
One thing is for sure. With Ranveer Singh's lubricated bod signing movies left, right and centre, far exceeding even hotness degree of Sunny Leone's Bollywood dance, will we have now suffer inflation in body oil? India definitely wants to know.
Comments
comments