Direction
Acting
Screenplay
Cinematography
Music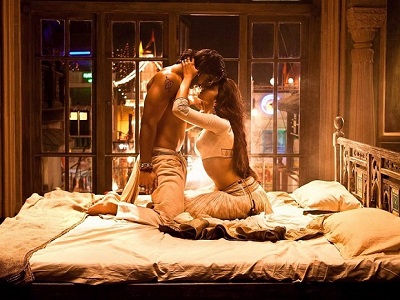 In Sanjay Leela Bhansali's "Goliyon ki RasLeela - Ram-Leela," a parched Rann of Kutch offers itself as a spectacular stage for a violent love story – soaking in gallons of blood spilled over the years through its cracks while silvery dark grey skies loom above and then burst to mourn the heartbreaking uselessness of it all. You know this is Bhansali's home turf the instant his film transports audiences to Ranjaar – a city cocooned from reality, living and breathing by its own rules and law, and witness to the 500-year-old conflict between its two tribes – the Rajaris and Saneras.
Don't ask why for even we didn't have the slightest clue, but this is as Gujju as it gets as an adaptation of Shakespeare's great tragedy, "Romeo and Juliet," and its families - the Montagues and Capulets. If "Saawariya" was all blue, "Black" was Black, and "Guzaarish" sepia, "Goliyon ki RasLeela - Ram-Leela" is a blazing red, for isn't it the reigning colour of love, lust, greed, envy, desire, power?
This Romeo and Juliet – Ranveer Singh as Ram and Deepika Padukone as Leela are lovers with Greek-God bodies, burning with passion and insatiable lust and hunger, are ready to rip off their clothes, and devour and claw at each other. Needless to say – the chemistry was piping hot. It is never love, but lust at first sight, and Bhansali gives us that – they are hooked the second they lay eyes on each other, and the fierce attraction melts into an affair. Their rapturous moments of heat, of full mouth kisses, exploring each other's bodies left us breathless and each time the two came on screen, we wanted more of them. As actors, both Singh and Padukone escalate from one emotion to another with effortless ease. The supporting cast amplifies this performance further, especially Supriya Pathak as the sharp witted Ba of the Sanera tribe. She is chilling.
But – there is always a but. This is "Goliyon ki Rasleela" after all. The Rajaris and Saneras are gun brandishing goons and dons, baying for each other's blood. While there is enough talk of Twitter and mobile phones, of porn CDs and highway tenders, it's a jungle out there. I was particularly impressed by the women carrying knives and pistols in their bejeweled kamarbunds. Bhansali does like his ladies to be of substance, and Leela, Ba, Kesar (Barkha Bisht), Rasila (Richa Chadha) are powerhouses who will pass the much in debate Swedish Bechdel Test for film rating.
However, halfway through the film, and I was squirming in my seat with the head-blasting overdose of bullets flying recklessly, bottles being smashed and shattered, Gujju abuses hurled like stones, and amidst all this, the crazy clans breaking into vibrant bouts of song and dance. Sold as a love story, in all the bloodlust, I felt robbed of love. Ram and Leela's hot romance turns icy cold after the interval, where we were hoping for a new dimension and depth to their attraction and connection, we were in for a rude shock with that "noisy: silent treatment.
Nonetheless, you can spot the immense love and passion with which Bhansali paints this picture – his colours, costume, choreography, cinematography (genius work of Ravi Varman) are simply awe inspiring. It's also too perfect to be true, although it does set a pace in the first half, but post interval the plot starts to peel off and scramble. The events turn uglier and violent, and we start finding it all exhaustingly senseless. Ego, anger, greed eat into the love and our lovers take a step back as the raging fire of rampant murders and rapes take precedence.
I, for one, want to see people take a stand, to fight and conquer it all, not give up and die. Let them marry, I muttered – the honeymoon always ends in six months. In the meantime, "Goliyon ki RasLeela - Ram-Leela" passes for one time watch – if not for the bonfire of vanities, then for Priyanka Chopra's sexy nautch number.
Comments
comments