When:
January 24, 2022 @ 10:30 pm
Where:
Blue Frog
Mathuradas Mills Compound
Senapati Bapat Marg,Lower Parel
Mumbai 400013.

Cost:
Rs. 1500 from 6.30pm (Early Bird)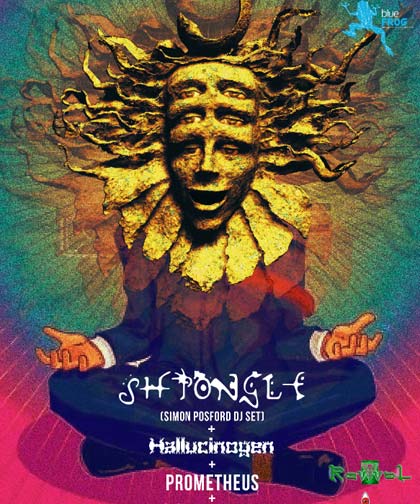 Shpongle
Dongle and Mongle are the only two other words rhyming with Shpongle…a strange hybrid of electronic manipulation and shamanic midgets with frozen digits squeezing the envelope and crawling through the doors of perception, find a new pair of dice…extra numbers and colours an infinite expanding bubble, filled with a bizarre, strange world of dripping hallucinatory wallpaper, a garden of earthly delights…Shpongleland.
Hallucinogen
Simon Posford is Hallucinogen. The twisted lone deranger that warped a generation. He needs no introduction, he's been ravaging dance floors and opening minds for years. He has two studio albums under this name but countless other equally brilliant releases on Twisted Records.
Prometheus
Producer Benji Vaughan, aka Prometheus, is one of Twisted Records' leading producers. Shining at the forefront of the international electronica scene, creating music and playing gigs as "Prometheus" solo, "Younger Brother" and the newly created The Zap! - with respective partners in crime, Simon Posford and Raja Ram - he's rocked thousands in countries such as Greece, Japan, Finland, Denmark, Mexico, Hungary, and the U.S., to name a few.
Younger Brother
Younger Brother formed in 2005 when Benji Vaughan (Prometheus and The Zap) and Simon Posford (Shpongle and Hallucinogen) were asked to write a track for a charity called Survival International. The charity raises money for indigenous people around the world and they asked Simon and Benji to write an electronica track inspired by a Columbian tribe called The Kogi. The Kogi call themselves the Elder Brother and those in western civilisation the Younger Brothers, hence the partnership between the two artists became known as Younger Brother.
Boombaba
"Boombaba" a.k.a Tarun is the moniker of Mumbai based DJ/producer Tarun Shahani who started producing electronic music after being inspired by meeting Delhi based duo Midival Punditz. He started producing music on early sequencers like acid and fruity loops and realized that he lacked the principles of audio production having never worked in a studio. Though he was happy with the sounds he was creating and the arrangements, he missed the polished mixing that he had heard In the music of his favourite artists. He did a stint at SAE Chennai where his real obsession with audio started. Tarun is now a renowned DJ, Music Producer and Sound Designer, having played at some of the most popular pubs in Mumbai and Chennai, as well as at Sunburn Goa.
Comments
comments