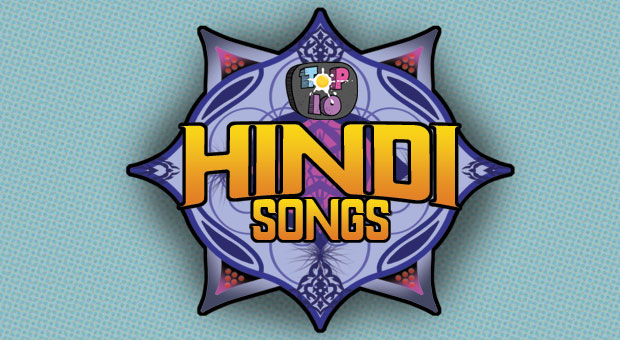 Aashiq Banaya Aapne
2005, Music: Himesh Reshammiya Vocals: Himseh Reshammiya, Shreya Ghoshal Movie: "Aashiq Banaya Aapne"
Depressing as this may sound, it's the most viewed hindi song on the internet. The nation like some sadistic teen decided to make Himesh a star and was rewarded with wave after wave of nasal whining. To be fair, the man had paid his dues, had some decent production going and managed to piss off a lot of righteous musicians by become a bigger star than them. He also went on to do some films, unsuccessfully where he even took off his cap. Anyway, Jai Mata Di, let's continue rocking.
Watch:
Ae Mere Watan Ke Logon
1963, Music: C Ramachandra Vocals: Lata Mangeshkar to commemorate Indian soldiers who died during the Sino-Indian War.
Perhaps most famous for moving the then PM, Jawaharlal Nehru to tears, this song echoed the nation's grief after loss at war. Lata Mangeshkar became the voice and image of a hurting nation and the song still lives on. All artists associated with the song decided to pledge it's royalties to the war widows fund in perpetuity though it was in 2005 that the Bombay High court made HMV pay up.
Watch Mangeshkar perform the song live in 1997:
Chaiyya Chaiyya
1997, Music: AR Rahman Vocals: Sukhwinder Singh, Sapna Awasthi Movie: "Dil Se"
I often wonder how that call to the producer went:
"Ummm, we need you to hire a complete train for us so we can run it up and down and shoot a video on top of it."
"No no baba, train too expensive. Look what good video Aamir Khan has just shot on a bullock cart. Get one of those.  Acha chalo, get four if you need."
*long pause* "Just listen to the song"
And that (in my head) is how the phenomenon was born. AR Rahman, lyricist Gulzar, Sukhwinder Singh, Sapna Awasthi, choreographer Farah Khan, cinematographer Santosh Shivan and director Mani Ratnam. You can find illustrious teams that are working together, but it's not often you'll find them all looking back at six and a half minutes and say, "that's probably the best damn thing I ever did." We agree.
Watch this ingenious video with English sub-titles (couldn't resist sharing it):
Baharon Phool Barsao
1966, Music: Shankar Jaikishan Vocals: Mohammed Rafi Movie: "Suraj"
Ever since the British decided imperialism was too mainstream, the country has shown unflinching dedication to poll taking. Between choosing which of Daniel Craig's six abdomen muscles looks best, and floating the possibility of a Spice Girl being Prime minister, the BBC decided to take a poll of the best Bollywood song of all time. This won. (Though I have my suspicion that it may have something to do with the Alladin meets Barney the Dinosaur costume.) The second reason this is here, is that every Indian man who goes to an ex-girlfriends wedding will see her walking out as a bride to this song. Be strong my friend, and check out Altaaf Raja. Speaking of which . . .
Tum Toh Thehre Pardesi
1997, Music: Altaf Raja Vocals: Altaf Raja Album: "Tum To Thehre Pardesi"
Before Himesh Reshammiya came and crowned himself king, Raja was the undisputed emperor of truck driver's choice for what nasal crooning would keep him safe from the dark spirits of the road. Apparently, it worked. This is rumoured to be the highest selling non-film album of all times. Wouldn't surprise us.
Watch:
Pehla Nasha
1992, Music: Jatin-Lalit Vocals: Udit Narayan, Sadhana Sargam Movie: "Jo Jeeta Wohi Sikandar"
The first mainstream song to be shot in slow motion is largely blamed by an entire generation for the embarrassing memory of dancing with a sweater. But, they all did it. Nevertheless, the song is loved by that generation and many others. Lalit of the now parted due of Jatin-Lalit said in an interview that he made the song for his wife and it is his contribution to Valentine's Day. His wife meanwhile is rumoured to be quite mad at him for making this excuse every year.
Rather than the original, the reach of the song can be best described by how a Saudi born would do a beatbox and vocal version of it. And we like it. Watch:
Aadat
2004, Music: Jal Vocals: Atif Aslam Album: "Aadat"
Yes, we know Atif Aslam is from Pakistan. Yes, we agree this ain't strictly an Indian song. But then, who can deny the impact it's had on the country. It's shaped so much of the music that has come since. The singers sound like Atif and there's that long alaap in the end. The Bollywood version does give us enough wiggle room to put it on here. Either way, the song's influenced thousands of rooms across the country where unsure fingers are trying to play the song across their six-string fretboards. Meanwhile, in some corner of the world, Aslam has slash playing it for him at his shows.
Watch this if you don't believe us:
Jai Ho
2008, Music: AR Rahman Vocals: Sukhwinder Singh, Mahalaxmi Iyer, Vijay Prakash Movie: "Slumdog Millionaire"
Why This Kolaveri Di
2012, Music: Anirudh Ravichander Vocals: Dhanush Movie: "3'
Like it or not. This is part of curriculum of the "Indian music for dummies" course the world is offering. Perhaps it's not important how it happened but just that it happened and there now is such a course. The songs will probably be forgotten over time, though watching Dhanush singing Why This Kolaveri Di live can be scarring for life. I digress, the songs may be forgotten but a lot of people have been hooked on to Indian music because of this. Also, the sneaky me would like to sneakily sneak it Pt Ravi Shankar's name in here.
Watch:
Pyar Kiya Toh Darna Kya (1960, "Mughul-E-Azam")
Hai Apna Dil Toh Awara (1958, "Solva Saal"),
Main Zindagi Ka Saath (1961, "Hum Dono")
There was a time when Hindi film songs had deep lyrical resonance and melodic brilliance put together. The team was tempted to comprise the entire list of these songs but it's tough to gauge the impact the songs had individually back in their time. However, for guiding the people to higher ideal of love and life than Hookah Bars and Chummas, big heavy Pop Splattin' seal of approval.
Watch the video for Hai Apna Dil Toh Awara:
Vande Matram
1896 Music: Jadunath Bhattacharya. Versions sung by AR Rahman (1997, "Vande Matram")and Lata Mangeshkar (1997, "Independence Day Special")
Different generations will think of songs by AR Rahman and Lata Mangeshkar. But the original had to be listed here for being our National Song, and for being perhaps the most controversial song on the list. Bankim Chandra Oppadhyay wrote the poem and Rabindranath Tagore performed it at the Indian National congress in 1896.  In 1950, the first two verses of the song were given the status of the National Song. This distinction was made because the song on the whole likens the motherland to Goddess Durga and many thought that was perhaps for a country as secular as ours. Surprisingly, Tagore was amongst the loudest voice in dissent.
Watch this beautiful music video directed by Bharatbala Productions with Mangeshkar's vocals:
Comments
comments