Direction
Acting
Screenplay
Cinematography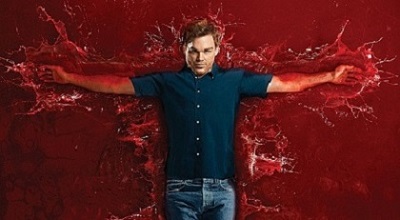 In this, the penultimate episode to "Dexter," it has been established that there's a marked line - one that divides the old Dexter (Michael C Hall) from the new. The latter, as the show desperately wants us to believe, has a heart filled with love and other cuddly emotions. The old Dexter, on the other hand, had a cover life. He spent years faking feelings, and by George, they've actually become real today. Was it us, or was Dexter tearing up while he sheepishly admitted to his co-workers that he would miss them too?
In the last episode, we saw Evelyn Vogel's (Charlotte Rampling) strong character meet a very puny death. Her own son, Oliver Saxon (Darri Ingolfsson) made a lesson of her while Dexter watched horrified, and apparently genuinely so, as she profusely bled to death. So now this is the dilemma we have. A normal person, as they claim Dexter is now, would see red, burning rage and go out guns blazing to avenge the pseudo-mother that Vogel was. Instead, our serial killer just wants him caught, at any cost, even if it means having the police get to him. Huh? Where's the sleuth-like dexterity with which he pulled off harder cases? He's got to people who have had fortresses of protection. Remember Season Five in which he had to do away with Lumen's rapist and captor Jordan Chase? That took ages, several other victims and he still managed to pull it off.
The dark passenger who has been the sole purpose of Dexter's life has now taken a back seat, even in these times when retribution is the need of the hour. Perhaps, if the build up to this change was more steady, may be it would be more believable. It just feels now, like the writers want to part on a happy, reformed note so they are not guilty of the crimes that Dexter has committed. Wrong, sir, the only crime here is the terrible wrapping up of things. We sat through the duration of "Monkey In A Box" watching Dexter try to sell his apartment and his lovely Slice of Life to futile results. He did regular human things, which just seemed like fillers to get to that 52-minute mark.
Then there was Debra (Jennifer Carpenter). Her brother, who she thought she was in love with, is leaving. Forever. Jacob Elway (Sean Patrick Flanery) and US Marshal Max Clayton (Kenny Johnson) are closing in on solving the whole Hannah McKay (Yvonne Starhovsky) mystery. But there she was flirting away with Joesph Quinn (Desmond Harrington) about the engagement ring he still has in his desk. How has no one stolen that yet? Does it only happen in Indian offices, that something like leftover food gets flicked if you look the other way? Anyway, Debra wants to get Saxon as bad as Dexter and even she is surprised that he doesn't want him for his table. That's when the classic flip-flopping happens, a trick the creators are clearly so in love with. Saxon shows up at Dexter's apartment threatening his family and suddenly the dark passenger has reared its head again. This doesn't last long though, and it shrinks back into its hole, because wait, new Dexter is taking over town, people. Even Harry Morgan says goodbye. We watch television because we know that it isn't real, but we want it to be. In return, the creators try as hard as they can to provide said reality. But when it seems like they are giving up, then we're not going to want to invest our time into the show anymore. That's exactly how the lame interaction between Saxon and Dexter felt like. One's decidedly restrained aggression and the other's cavalier attitude are disconnected, like we're watching two parallel storylines with the same plot.
We'd like to be indignant, but we're just resigned to stick with Dexter till the end, which thankfully won't be long now. It was a slow episode, maybe in another sequence of events, it would have been the perfect cathartic pause to evoke some pondering and be nostalgic. Unfortunately, the pace has slackened, the writing is sloppy and what we really need is something strong. The end of "Monkey In A Box" was an attempt to be that shot of caffeine. However, what it turned out to be was just another tried and tested route of "attempting" to shock the audience by affecting such an important character. Right now, they can do what they want and we won't even blink an eye. So bring on the finale, we're here, but we don't really care.
Comments
comments