Direction
Acting
Screenplay
Cinematography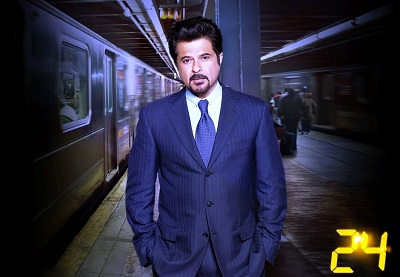 24 hours, 24 episodes, 24 ways of redefining Indian television. The countdown is over, and the race against time began the minute Anil Kapoor's 24 (officially it's Safari Storme presents 24 but I prefer this one to be Kapoor's baby) "tickety tocked" with a lit up birthday cake on Colors at 10 pm sharp on October 4, 2013. True to its mindblowing original American series, the Indi adaptation of this high-octane espionage suspense thriller directed by Abhinay Deo lived up to the reputation. Of course it was tweaked to Indian sensibilities –the lesbian couple in the original are sisters here, the political family and setting is different and Kapoor is a more filmy agent who injects his own boss with some green fluid to evince intel.
Like a precursor to any cat-and-mouse-chase story, the first to episodes basically presented the characters and the primary plot. Half of the job is done when you have a talented ensemble of actors comfortable in the character's skin, and the other half when your writers weave an intricate network of schemes, plots, situations, emotions, et al. "24″ manages both. While writers Rensil D'Silva and Bhavani Iyer along with Priya Pinto and Milan Milap Jhaveri keep the dialogues grounded and sensible, the actors make decent first impressions: the country's first family with a very cold Mrs Naina Singhania (Anita Raj) at the helm of affairs, her idealistic prime ministerial son Aditya Singhania (Neil Bhoopalam), his politically well tuned sister with a drunken sob of a husband Divya Singhania (Shivani Tanksale), a lonely wife Trisha Rathod (Tisca Chopra), her rebellious teen daughter Kiran (Sapna Pabbi), agents Tejpal Singh (Adhir Bhatt), Wasim (Anupam Kher), the pretty shady Nikita Rai (Mandira Bedi), and the man himself, Jai Singh Rathod, ATU Chief (the daredevil Anil Kapoor going strong at 53). He is no Jack Bauer (Keifer Sutherland in the original "24″), but he displays the same strength and streak of madness as Bauer. He is the go to guy, our flawed hero called upon to unfoil an assassination bid on to be sworn in Prime Minister of India, and plug the leak in his very own Anti Terrorist Unit.
The first two hours sets the pace – a quick intel on the attack, bossy bosses, the over and out affair between Rai and Rathod, terrorists undergoing plastic surgeries, a mysterious plane crash, blackmail, double agent in ATU, murder of two agents, dirt on PM's ugly past, and an unexplained kidnapping of Rathod's daughter. Gripping, it has us hooked, and a little curious too for Americans are known to go for the jugular - they have the envious knack of keeping everyone on the edge and entertaining splendidly. Barring the eye-hurting close ups, Kapoor's 24 has stormed is as a solid game changer. What remains to be seen is whether other channels/producers/programmers will follow suit or not.
Comments
comments