The upcoming edition of Fresh Talent Bomb Thurdays, happening on October 10, 2022 at Kino 108 features two singer-songwriters, two Hindi bands and an EDM/Indian classical fusion artist.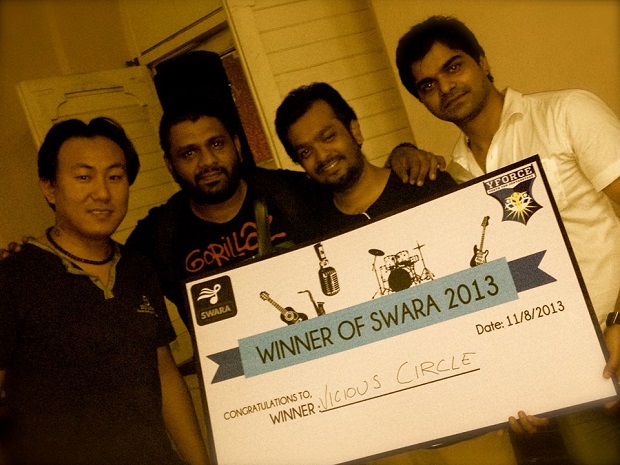 Act: The Vicious Circle
Play: Formed in 2010, Mumbai's Hindi rock act The Vicious Circle is made up of Abel Zeliang on guitar, Melvyn Mendes on drums, Aniruddha Desai on bass and new find Rahul Pandey on duties. The band has had quite a few members joining and leaving periodically; true to their belief in "Breed-Serve-Decay."
Sound Like: The Vicious Circle is a melodically rich Hindi rock band, doling out impeccable guitar and drum play, not normally associated with Hindi music. Their music is especially endearing for their use of fast-paced Hindi lyrics to extremely raw rock music. The addition of strong societal themes gives them a revolutionary feel. Says bassist Desai, "We blame the very system we are a part of, unknowingly feeding it. Bribing the havaldars, throwing cigarette butts on the road and expecting the system to treat us differently is plain hypocrisy. We firmly believe that we have to make a change in our outlook and demeanor, if we expect to break out of this circle, ever." While the band has not produced more than a few home-studio recordings of the music, the arrival of the new vocalist Pandey is a catalyst for new material, as well as a music video. Only recently they were winners of Swara 2013 Competition, for which they were mentored by music composers Salim and Sulaiman Merchant.
At BOMB Thursdays:  Bassist Desai tells us that the band is going to be playing with one guitarist, instead of the regular two (they had a vocalist-guitarist earlier), but the sound is going to be just as heavy as always, and a mean punch shall be delivered.
Watch: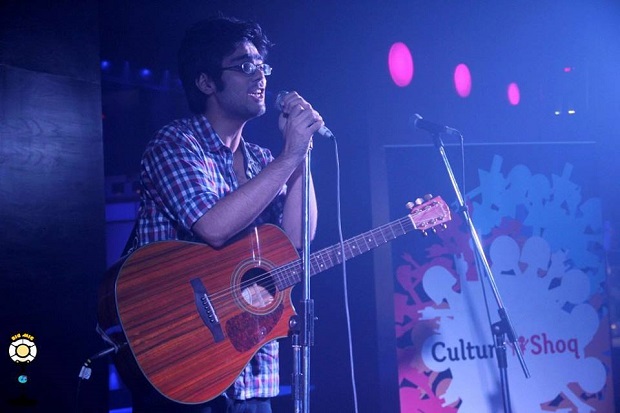 Act: Charan
Play: Mumbai's singer/songwriter Charan Singh Pathania dons many hats. Besides being the composer, singer and guitarist of Hindi lyrical material for his solo project, he is also the guitarist of the city's well-known metal act Providence, and is a music arranger and programmer. Pathania also has other such hobbies as playing FIFA with fellow band members, relishing eggs and cheese, and watching Breaking Bad, among other things.
Sounds Like:  Pathania is comparatively new on the solo project scene; he has been writing Hindi and English material for more than a year now.  He says, "My compositions are really stripped down, non-complicated, lyrics driven and hopefully relatable songs." He has already collected a whole lot of material, in fact enough to chalk out an entire album, but that plan needs a whole lot of engineering. He's rather contented now in performing, and gauging people's reactions to his material.
At  BOMB Thursdays:  About this particular gig, Pathania concedes, "I am just starting out with my solo project and this will be probably my first 'not an open mic' night (He has performed at Big Mic for Music on several occasions). I would like to believe that my performance is going to be in the personal space, and hopefully, something people will enjoy."
Watch: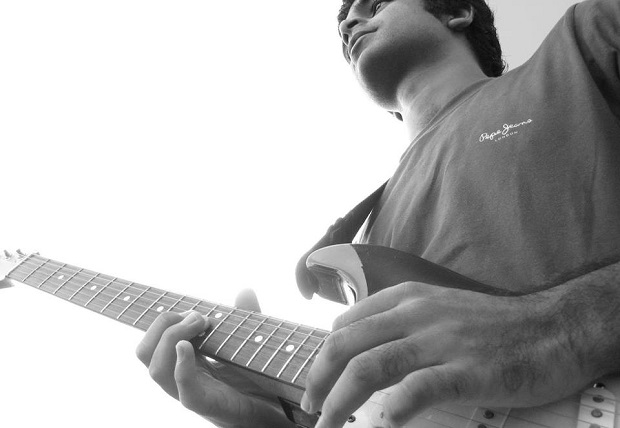 Act: Mohit Mukhi
Play: 26-year-old singer/songwriter, Mohit Mukhi is a passionate musician from Mumbai. A graduate from London's The Institute of Contemporary Music Performance, Mukhi has fine tuned his skills as a guitarist and songwriter.
Sounds Like: Mukhi's songs can be best classified as sunshine-hugging easy listening numbers. His songs have a very pink fuzz feel to them, and seem to be made specifically to sublimely melt into. With oodles of soul, and a musician-next-door feel, Mukhi's act is an instant shot of feel-good.
At  BOMB Thursdays: Mukhi's act is primarily a solo act, and a relatively new one at that. At this edition of BOMB Thursdays, he will be mixing things up my using the electric guitar on what is a primarily acoustic guitar set.
Listen:


Act: Jeet Zitar
Play: Jeet Zitar is the solo project of musician Jeet Sharma. Residing in Mumbai, Sharma is a software engineer by day, but as the night dawns, he is a Mohan Veena-wielding EDM producer, fusing electronic sound with bits and pieces of Indian folk and classical music.
Sounds Like: Jeet Zitar's music is a combination of live-programmed /DJ sets and ranges from down-tempo ambient to a host of progressive EDM. His music is heavily atmospheric, transporting the listener to a different fantasy realm. It's got the very freshness of the morning itself, and he is one of those few musicians who makes use of the Mohan Veena, especially in the genre he employs it in. He is currently working on material for a EDM and Indian classical fusion album, which he hopes to release soon. In 2011, the one-man project performed in Madrid, promoted by Red Bull Music Academy. He has also performed earlier at the New York Holi Festival, and done a few shows in Goa and Mumbai.
At BOMB Thursdays: About the upcoming gig, Sharma informs, "I usually play DJ sets with my original music pre-recorded, probably including elements of live Zitar and Keyboards. This Thursday I am going to get experimental and play a Live-Programmed set with on the fly improvisations to the music, I have been working on this over the last month. It's also time to unleash the new AKAI APC 40 that I got from my last trip to NY."
Listen: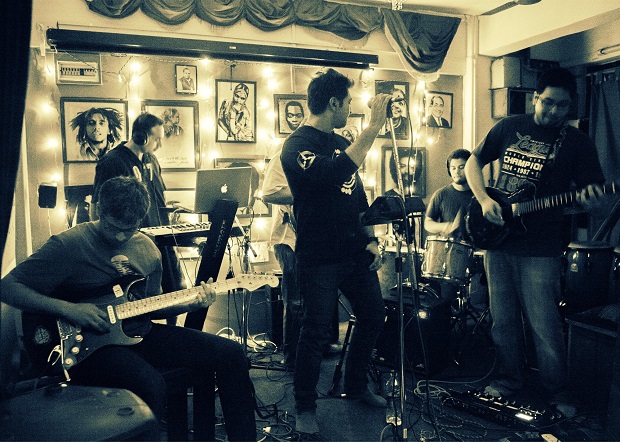 Act: Grasshopper
Sounds Like: There's something extremely kickass about music that can teleport you and Hindi cinematic psychedelic band Grasshopper do just that with their music. Formed in 2011, the band is made up of Bhaven Dhanak on vocals, Gaurav Shah on lead guitars, Suvir Singh on backing guitars, Rahul Singh on synthesizers and keyboards, Crosby Fernandes on bass guitar and Gautam Deb on drums.
Play: Grasshopper's music is literally "high" on the psychedelic factor, and while not having a particular pace in their music, their songs set the audience in a slow motion trance. High in synth effects and replete with deep lyrics, Grasshopper's music is transcendental. In guitarist Shah's words, "We see ourselves as being more than just in the music business; we are in the business of emotions and expression. This changed the paradigm for our creation process, making us look deep and question the shades of our own emotional depth in order to express musically in the purest form". The band released their full length album "Mirrors Of The Mind" earlier in the year, and are looking to finish another album by 2014.
At BOMB Thursdays: This is going to be the band's second gig on the Mumbai circuit, and while their set will consist of songs from the album, they hope to have a visually heavy set, unravelling the story that the album is.
Watch:
Attend Fresh Talent BOMB Thursdays on October 2013 at Kino 108, Andheri East,9 pm onwards. Entry Rs 200 Details here. 
Comments
comments