Menu
Pricing
F&B;
Ambience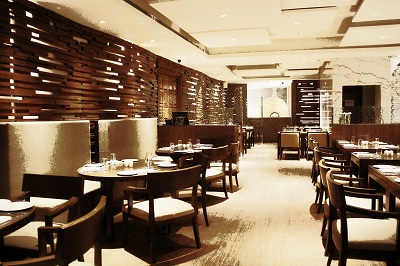 Those familiar with Andheri will know of two very famous culinary stretches in the busy suburb. One is Yari Road, that's home to Amigos, The Blu Balcony, Jamjar Diner and others, while Lokhandwala houses Mainland China, Kazan, Chocolateria San Churro and scores more.
Levo is slightly off these eaten paths, but as we discovered one sunny Friday afternoon, it's definitely worth your time to make the diversion. In a lane behind Kokilaben Ambani Hospital, the space houses a banquet as well as the restaurant. An upcoming addition is an al fresco section that will function all day and have a more pocket-friendly menu compared to the fine-dine eatery's main area.
Walking in, we couldn't help but notice that we were the only small-table occupants around. The interiors are ho-hum, with not much going on design-wise. There's a bar at one end, a biggish private dining area and some side tables that have an awkward mix of high back couches and chairs. Unfortunately for us, we ended up being seated at the latter. Two kitty parties were going on simultaneously, and the restaurant's (conflicted taste in) music wasn't enough to drown out the collective chatter.
In an attempt to tune out, we turned to the menu instead. Created with the expertise of celebrity chef Rajeev Arora, it's both exhaustive as well as concise. The former because of its length; the latter because there aren't too many dishes that use the same meat.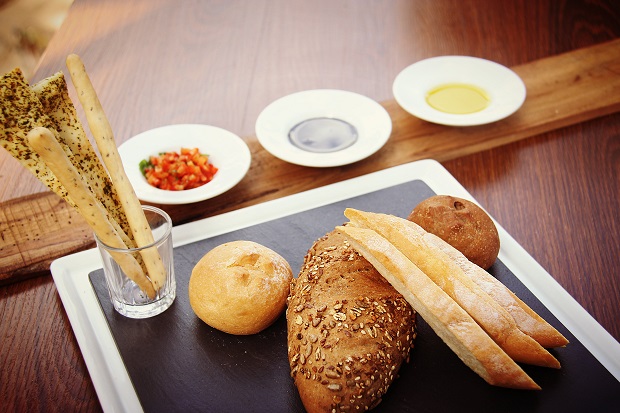 We zeroed in quickly on Seared Scallops (Rs 690), Smoked Tenderloin Carpaccio (Rs 500) and the chef's recommendation – Goat Cheese Flat Bread (Rs 350). The latter was an easy favourite for its subtle, fresh taste of goat cheese, caramelised onions, cherry tomatoes, arugula, pesto and a great tinge of balsamic.
The carpaccio too was more than satisfying, with delicate slivers of juicy meat, capers, aioli and again, arugula leaves. Only the scallops were disappointing – more for their three-piece portion than the delicate flavours that only one person out of our party of four appreciated. At that price, we had way higher expectations.
The restaurant also sent us little cups of Tomato Soup, a full portion of which is priced at Rs 200. It was full of flavour and bang on the money. We suggest having this with the restaurant's complimentary bread basket. The latter had some very soft breads that we polished off with garlic butter in no time.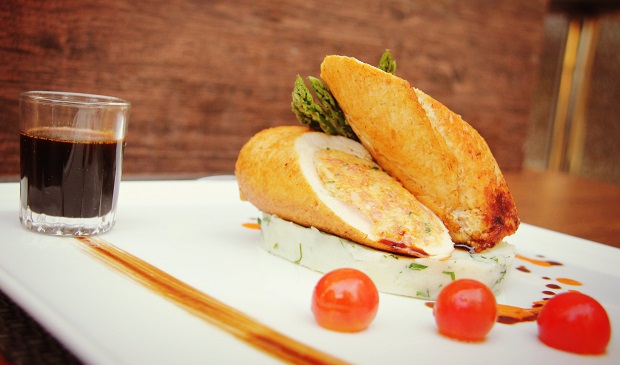 Already a little full, we opted to order three mains to share between four of us and once again called upon chef Arora for suggestions. His top pick, Pulled Pork (Rs 790) turned out to be the best dish of the day, with the tenderest pork we've eaten in a while. We were informed that the meat is cooked overnight and that surely made all the difference.
The other recommendation, a Creole Steak with Prawns (Rs 1,650) was also worth the hype. The chunk of certified Angus Filet Mignon came with two juicy jumbo prawns – delicately flavoured – and a side of mashed potatoes. Definitely a filling meal for those who haven't already gorged on starters. The chef kept the meat medium rare, which was ideal for us, but we would've preferred to be asked about the same. Those who like their meat well done would've definitely sent the dish back.
Our third pick, a Crispy Duck Confit (Rs 1,090), was slightly overpriced, but a yummy meal. Its elements, the meat, asparagus risotto and spiced orange-cranberry jam come together beautifully. The tartness of the jam with the mild risotto and salty duck create an explosion of flavours in the mouth.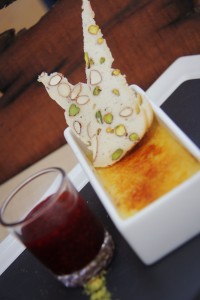 By this time, we had little or no space for dessert. The staff was sweet enough to bring us tasting portions of three desserts instead – Chocolate Decadence, Ricotta Cheesecake with Berry Compote and Chocolate and Orange Pot Au Crème. The dishes are actually priced at Rs 290, Rs 325 and Rs 290 respectively.
The cheesecake was an easy favourite. Its unusual, not-too-sweet flavour went well with the teeny serving of berry compote. It was very light too. The Chocolate Decadence was yummy. It was a soft, gooey cake that went well with the stewed strawberries served to us. Again, this dish wasn't overwhelmingly filling. The final dessert wasn't disappointing, but it certainly wasn't at par with the two. Fans of the chocolate-orange pairing will definitely enjoy it, but it's not a dish we'd go back for.
On the whole, we quite enjoyed our meal at Levo. A regulation of prices of certain dishes on the menu should definitely be a priority for them, as should the introduction of an alcohol menu. On the day we visited, we were informed that necessary licenses were expected to arrive two days later.
We're also eager to see how the al fresco section fares once it's operational. Conceptually, we don't think it should be a problem if wi-fi and reasonably priced food are thrown in the mix.
Levo Restaurant & Lounge
Mukti Business Park, Ground Floor,
141-A Model Town, Andheri West.
Comments
comments