Direction
Acting
Screenplay
Music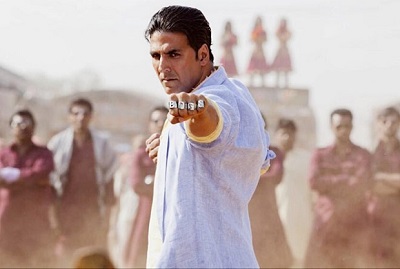 Here is a "Boss" who sprints in circles, in a cirque du soleil fashion over trucks, who snaps his fingers and has a human rocking chair to sit on, who has hot women dressed in ghagra cholis cheering for him, who has a favourite truck called "Behen ki Lorry" and whose (this is my favourite) drop of sweat has the power to grow a plant. "Isse kehte hain power plant," grins Akshay Kumar, the "Boss" who just unwittingly gave Rajnikanth competition.
Honestly, I am not a fan of obnoxiously over budgeted films with incoherent gibber jabber for a script. Nor do I keep a lookout for OTT remakes of southern films, in this case, the remake of Malayalam film, "Pokkiri Raja." But halfway through the film I was in splits. This is a film custom made for King Kumar. He loves playing these larger-than-life, saviour of all, knockout with one punch wise-ass of a guy. If "Rowdy Rathore" had him twirling his moustache and straightening his vardi, "Boss" has him in kurtas, gelled hair and cheesy lines while bashing the goons, like, "music bajao taaki inka band bajaa sakein" or "commotion ke pot main emotion ke loose motion,"  "yeh hamara five star lounge," (referring to sofas on a truck), or the best – "bum chikki chikki bum" (about a bomb in the bum).
A regular good son with anger issues misunderstood by his satyavadi Gandhian father Satyakant Shastri (Mithun Chakraborty), "Boss" is a no brainer of a story. "Boss" is disowned and adopted by Big Boss (Danny Denzongpa), and years later, reunited with his family when he has to save his younger brother, Shiv (Shiv Pandit) from the big baddie – a very menacing ACP Ayushman (Ronit Roy). I am still figuring how director Anthony D'Souza managed to get stalwarts like Denzongpa and Chakraborty in the film. Sadly, the girls are mere props – Aditi Rao Hydari does a paisa vasool bikini show while Sonakshi Sinha, we guess, was paid to look pretty and shake a leg with Kumar.
If you want to laugh out loud and slurp in all that double dialogues, bone crunching dishum dishum action, plus a Yo Yo Honey Singh number, then go ahead, this "Boss" is right. My rating, the stars shine for Ronit Roy – the devil must get his due.
Comments
comments