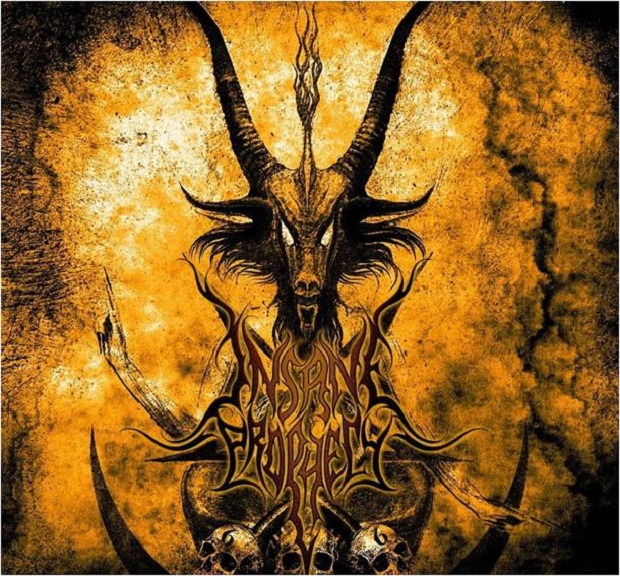 It's no secret, Mumbai loves Guwahati death metallers Insane Prophecy. Since 2012, the band have played three brutal local stages including the second edition of Black Metal Kreig in 2012, Domination -the Deathfest V and the Entombed Metal Fest, alongside a clutch of other local acts this year. Insane Prophecy's brutal sets have been lapped by scores in the city, making them one of the rare tour-friendly bands from the North East. Their counterparts don't make the hike as much. The two-piece studio act with drummer and bassist, Ifty Sarwar and vocalist and guitarist, Xulfi Nawaz add sessions' drummer, Plague Throat's Bianglang Kharmawphlang aka Malice for their live sets, and will be returning to be part of the staggering nine-band lineup at the upcoming Black Metal Kreig 3 on December 8, 2013. We spoke to frontman Nawaz about the evolution of the band's sound over its six years of bashing eardrums and drum skins, turning into a "professional act".
The band first got together in 2007, with a lot more members and a very different sound. Nawaz explains that through the many transitions that the band has gone through: unprofessionalism mainly, was taking a toll on their coherence. "Things were at an early stage, which consequently affected band's constant indulgence in writing songs. Soon it all took a halt, and with lots of musical differences among the members of the band, some of them left," Nawaz says. The heavy six-member entourage soon gave way to a five member act with Nawaz and guitarist Bikash Subba hopping on board. The band continued as a symphonic black metal act for a while, but this equation still seemed imperfect.
Nawaz builds, "By the end of 2008, after playing several shows and understanding the prospects of being more professional, we clutched onto the sound formed by the years. Gradually, we became a three member band and released a single, Blasphemy Of A Diabolic with me on bass and vocals, Sarwar on drums and vocals and Subba on guitars." That one song decidedly was the turning point in the band's future, and was possibly the best thing for the band's career. "We finally figured out what we want to sound like, and we managed to release our debut EP, "Apogee Of An Inquisition" in 2011," adds Nawaz. Subba eventually left the band, transforming the band into the two-piece blackened metal outfit it is today, sure of its sound, and possibly among the tightest live metal acts.
The band shares a very unique rapport with the metal scenesters of Mumbai. From the three performances that Insane Prophecy have had in the city, metal heads have not enjoyed moshing away at breakneck speed to any other band in a long time. So instantaneous has been the respect for this band, that rumours erupted following their last performance that Insane Prophecy have plans of moving to Mumbai. Nawaz clarifies, though, "I feel great that we have been appreciated and accepted well by the Mumbai metal crowd. I guess after Shillong, Mumbai is the second place where we have so many people appreciating our music. And no, it is not true that the band is shifting here. It's just me who is here to pursue a diploma. The band is from Guwahati, Assam and always will be from Assam, no matter where the band members are."
Nawaz's connection with the city thus perhaps explains this lone North East Indian band's ability to keep playing gigs in the city.  While the region has music flowing left, right and center through its people, the biggest reason they cannot make it for shows around the country is the elephant in the room we all know, which Nawaz bluntly states, "Most of the bands can't make up with the budget and they think about their loss and profit, while the bands which make it this way, don't. They think about the music, just like we do and hence, we infer loss in the hope that it will just pass." He further states, rather pragmatically, "As you know organizers all over india always come up with this one phrase "we have low budget." We have no choice then, and I believe each show then contributes. Loss after loss after loss will someday become a good profit."
There is almost a sense of nostalgia for the members of Insane Prophecy as far as the Black Metal Krieg stage is concerned. The second edition of the gig in 2012 was the first time the band played in the city. That gig, besides opening the city up to the band, is also important to the band for other reasons. Nawaz states, "Black Metal Krieg always has been the most special gig for Insane Prophecy, as it's the only gig in the country that promotes and concentrates specifically on our style of music. At the last edition of the Black Metal Krieg, we released our debut EP, and that was our first show in Mumbai. It was much unexpected at that time, how the crowd would turn out to be, but everything went great and we were much loved."
Currently the act is working on their next release. "We are writing new songs for an album, but we are not recording any of that material yet. One new single is going to release this December. And for sure, an album will be out in 2014." That sounds excellent for the band as post this impending gig, the band already have dates booked in Pune, Bengaluru and Delhi next year.
Listen:

Black Metal Krieg 3 By Stark Denial & co-sponsored by Transcending Obscurity featuring Spiked Crib, Cosmic Infusion, Stark Denial, Solar Deity, Dormant Inferno, Dark Desolation, Winter Gate, Insane Prophecy  and 1833 AD will be held on December 8, at United 21, Thane, 3.30 pm onwards. Entry- Rs 500, Early Bird- Rs 400. For more details, visit the Facebook page here.


 
Comments
comments