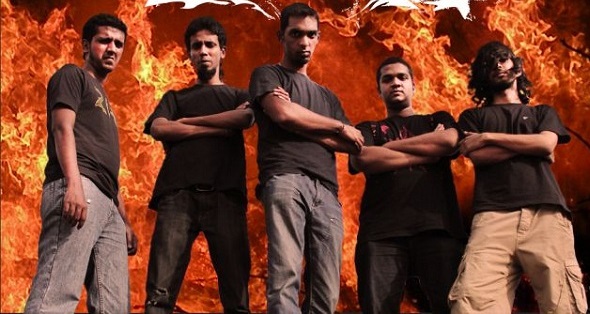 Bengaluru's black metal act Dark Desolation are boys of few words and defend their sound by letting their music music doing all the talking. No bullshit frills on the side. Black metallers that stick to the genre and its garb in it's entirety,  we spoke to Shredaj, the guitarist of the band and he gave us some superb insight as to how the band functions, and what they feel like being part of the metal scene.
A band that formed in 2010, Shredaj states, "Dark Desolation draw inspiration from sheer interest towards the genre and the music." Sure, they don corpse paint on during their live acts and stick steadfastly to their stage names, yet this group of black metallers knows that their particular brand of music is something they formed as an expression of their own ideologies and lives, while also creating music that black metal lovers could connect and revel in. The five member group is composed of Shredaj and Dharni on guitars, Maggot taking on vocal duties, Jake on bass and Kartik on drums.
Being part of a black metal band only seems natural for the members of Dark Desolation because they connect with black metal not only for its musicality, but also because there is a very personal connect with the theme of the music."Dark Desolation is all about feelings of hate, like depression, darkness and the negative side of the human; and as a band and personally, that's captivating. The lyrics we come up with are from personal experience itself", says Shredaj.
Going deeper into the song writing aspect of the band, he concedes, "Our song writing depends from track to track. Firstly, we start with adding new guitar tones for every track to capture the kind of attack the track represents; we create an atmosphere. The musical element is added in later, and a certain type of an atmosphere creeps in to start riff layering. Apart from this, the arrangement is then filtered with various aspects like feel, groove, etc. and is analyzed to see if it suits the track. We filter all the ideas until we get the right end product, and once it all falls in the track criteria, we finally hand pick!"
While that covers the musical direction that the band follows, it is not difficult to see that black metal is among the least explored metal-specific genres in this country. While black metal is quite a popular genre in other countries, there is quite the veil of obscurity for the art here. Speaking from his own band's perspective about the level of competition and solidarity among the throngs of multi-genre bands around, Shredaj says, "Yes, as we all know there are loads of bands across the country and in today's world the competition is definitely higher. But that being said, for a band irrespective of the genre, it's very important to do things the right way and that should answer any question about being in a band!"
Heavy riffs (now even more aggressive with the newly installed Railhammer pickups), blast beats galore and Maggot's antics on stage make for a fantastic live rendition of the band's performance. Dark Desolation exudes a certain amount of energy on stage anyway, that sets their music unusually brutal. Those who have seen the band perform live earlier are witnesses to this, and those witnessing them at BMK3 for the first time are in for a treat.
However, Shredaj doesn't mince words while describing the live set. He says "To us, it's not about playing some fucking shit to gain attention and get noticed in the scene and shit. We're not here to please anyone or someone or whatever the fuck it is! We do what we love doing." Maybe this is why when Dark Desolation is on stage, it is not difficult to see that the band is in another zone altogether, almost oblivious to the audience in tow.
Speaking about the newer material the band has been working on, Shredaj is pretty tight-lipped as he says, "We've completed writing material and are planning on a full length album soon." Talking about upcoming gigs, he says, "At the moment we've got some releases pending so after BMK, it's time to wrap up some pending stuff, and yeah then we'd look into gigs."
Listen:
Comments
comments