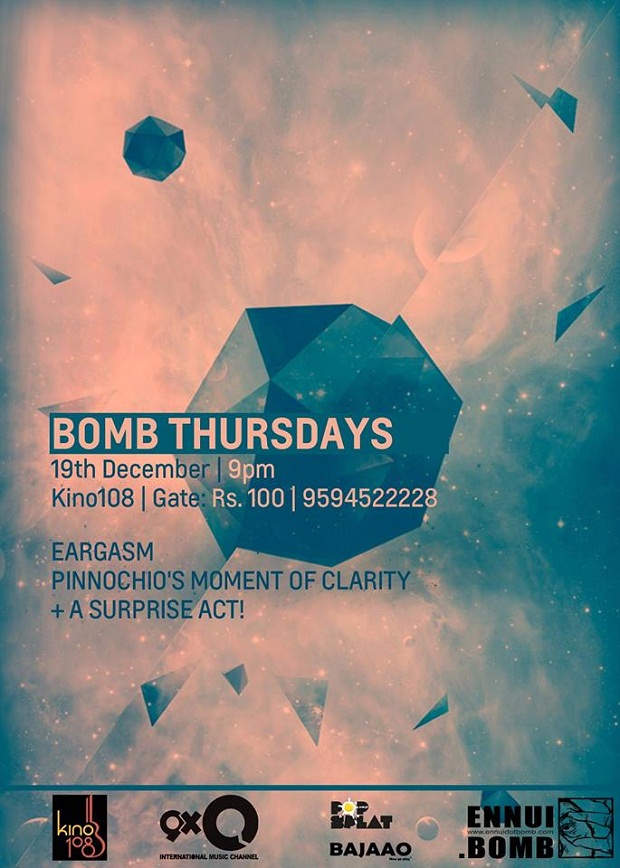 Ennui.Bomb is at it again, with this time's BOMB Thursdays being bigger, more exciting, more surprises and very importantly, cheaper than ever before. At Rs 100 bucks a pop, audiences are entitled to an experimental/progressive act, Pinnochio's Moment Of Clarity, hardcore munk rockers Eargasm, and a very special third act playing at the gig, and to be honest as hell, these guys are no short of a leprechaun's pot of gold. Do you want to miss this kind of a gig? We really think not. Get into the spirit of the holidays, come down to Kino 108, Andheri on 19 December, and kick start the good times!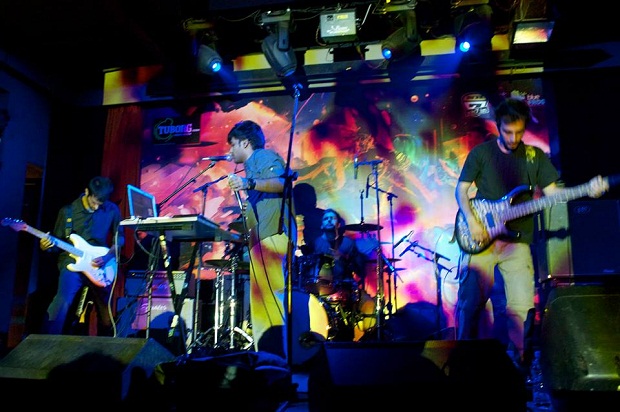 Act: Pinnochio's Moment OF Clarity
Play: Formed in 2008, Pune band Pinnochio's Moment Of Clarity is the brainchild and the quintessential baby of founder member of the group, Aditya Virmani. While the band started out as a single-member unit, it now consists of Nitin Jayraman on drums, Shashank Chandak on vocals/ samples, Shaurya Sharma on bass, and Virmani on guitars. Says Virmani, "There is not much classification that comes to our mind; it just goes under experimental as we have music ranging from Trip hop to Heavy Progressive Metal and everything in between."
Sounds Like: A heady concoction of progressive, post and electronic music, Pinnochio's Moment Of Clarity is music originated, developed and mulled around in the left of center. With a host of elements making up for an ambience that can both scare you into a corner, and also uplift you to an altered reality of its own, their set on headphones sets a duality in thought processes, and live, with pulsating sound, and lights ripping through, could very well be a drugless high. Thematically, the music is built around the protagonist Pinnochio, and his own thoughts as he journeys through life, contemplating politics, society, spirituality and the universe on a whole. Having released seven songs on the internet, these boys are now working on a full-length album to be out in the next year.
At BOMB Thursdays: Speaking about this particular gig, Virmani says "For this gig we are going to be playing Sleep Is the Answer. We have never played that track live before and are excited to play it live. It is one of our most intense tracks as well."
Listen: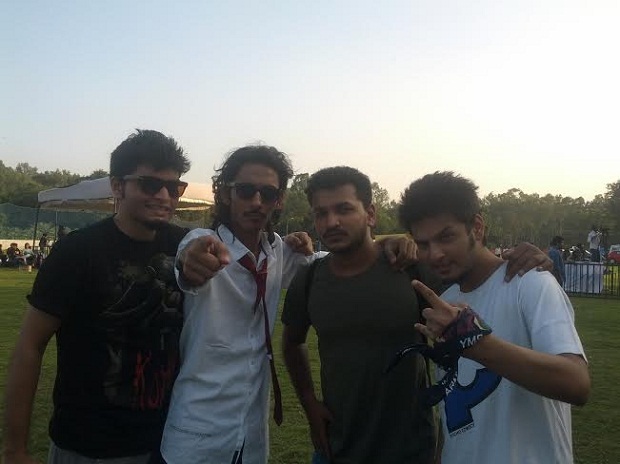 Act: Eargasm
Play: The five-piece hardcore munk rock band Eargasm is made up of Amogh Tendulkar and Diganta Gogoi on guitars, Kanak Sirur on vocals, Bhargav Wadekar  on drums, and Afroz Inamdar on bass. From Mumbai itself, these youngsters call themselves hardcore munk because their music is a twist on punk rock with elements of melodic metal. A band that travelled under different guises for different gigs, the members stuck to Eargasm as a name after listening to how their guitar riffs sounded (Ear + orgasm).
Sounds Like: Su-weet sounding guitar licks and riffs are the essential flavour of Eargasm's music. With relaxed drumming patterns complimenting the guitars, and inspired vocals tending a very organic, rounded feel to their music, Eargasm make for a young band which has found its sound early on. Tracks like Let Me Die and the self-titled Eargasm are proof of their prowess in song and lyric writing, and reflect their ability to make the music sound passionate as hell! These guys are working on album material as well, the recording process for which will begin in the next year.
At BOMB Thursdays: About the upcoming gig, vocalist Sirur explains, "We will be playing our latest new track Rules and also playing "Anxiety" for the first time in Mumbai since releasing it at Bengaluru.
Listen:
Attend BOMB Thursdays on 19 December, 2013 at Kino 108, Andheri East,9 pm onwards. Entry Rs 100. Details here.
Comments
comments