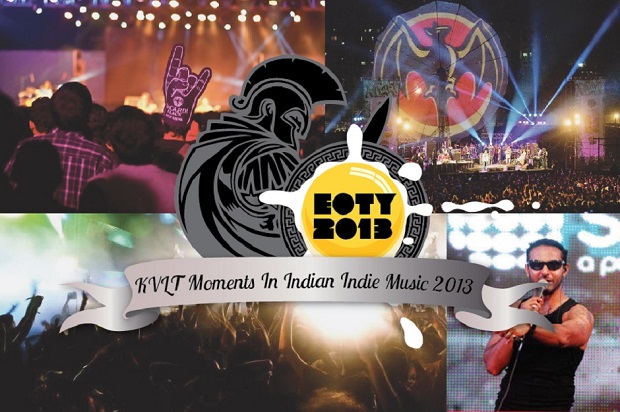 One thing you can always be sure of when the alternative music culture is involved, is that things are bound to always get noisier and even a tad dirtier. 2013 was definitely a year of reckoning for the Indian indie music "scene" (it's still too small to be called an industry). Between the high points of copious amounts of music festivals and destination gigs mushrooming along the tropical Indian countryside and regular periodic gigs making a comeback to Mumbai setting a standard for bands to up their performance and their talent - there were the court orders and talk back  galore. Even as we hope the community will eventually grow into a bigger industry in 2014, we recount the kvlt-est moments of 2013, both for the bands as well as audience.
DROPPING THE I-BOMB
Had we known at the start of 2013, that we'd have to live up to a hectic gig year, we would've applied for that raise and made sure our evenings always read free-to-gig. Ever since Mumbai's favourite venue, Razzberry Rhinoceros' untimely demise a few years ago, audiophiles and bands both in the city have been waiting for affordable, periodic gigs to make a comeback. And this year it totally did. Music afficionado and indie label ennui.BOMB head, Rishu Singh started fortnightly indie nights called BOMB Thursdays in April this year in Andheri, priced supremely cheaper and giving bands from the city and outside a great stage to whet their talent and give us enough of an indie hangover to survive. VANS Fresh Off The Wall, Little Door Tuesdays and D'Bell Nights are some recent additions. The folks at metal programming company Aaargh brought back metal to the city from the suburbs with monthly moshpits called Bombay Asylum. In their maiden performance French progressive metal act's Hacride tore down the place with their ultra-powerful riffing, intense drums, and vocals that made you wonder just how far Luis Roux can stretch his vocal capabilities. Their performance gave rise to perhaps the most intense mosh pit Mumbai saw this year, and the gig in fact was a gateway for the monthly gig experience coming back to the city, and in its four editions, saw possibly the best bands from the country perform, including Gutslit, Rectified Spirit, Reptilian Death and Providence among others.
GOING WEST
2013 was a superb year for the country's metal scene with quite a few bands going on international tours and one off gigs this year. These would include Zygnema's performance at Inferno Metal Festival, Norway, Inner Sanctum Wake of Destruction Tour, Germany, Devoid and Kryptos at Wacken Open Air, Germany, Albatross' Wings Down Under Tour Australia Tour and Blind Image continuing their international gigs. For these bands making an impression of Indian metal abroad, all hails. Why stop at metal? Artists like Indus Creed, Nikhil D'Souza and Raghu Dixit travelled to Dubai, Singapore and USA to perform on tour. Homegrown and awesome.
GIANT LINEUPS
It looked like Mumbai was just not content with its regular fare of three to four bands playing at gigs this year.  Starting with Domination-The Deathfest V that had an awesome six band line up of extreme metal bands, the trend continued with Metal At The Tavern having seven bands, Entombed Metal Fest and its six bands, Rock Riot and its seven , Grand Mammoth Festival with seven   bands, and finally, the recently concluded Black Metal Krieg 3, which had a fantastic nine band line up. For a city that just doesn't seem to get tired of watching metal shows, what more could any metal head ask for in Mumbai?
MORE AWARDS
MTV brought their international property, Video Music Awards to India this year. The first addition, called VMAI 2013, were held in March and besides the extensive Bollywood contingent, Indian indie got some bit in as well with Siddharth Basrur, Agam and Kailasa winning pole positions. JD Rock Awards and Rolling Stone Metal Awards celebrated outstanding achievements by bands and individuals in the field of indie and metal, respectively and gave us memorable performances.
FESTIVALS
We are half way through the annual music festival season and 2013 saw many more hopping on board. The Bacardi NH7 Weekender went to four cities this year, one more than last year - Pune, Bengaluru, Delhi and Kolkata. OML didn't bring back their Bacardi Invasion Festival and Ragasthan never came back for a second year either. Other music programmers gave us three new festivals this year - the MTV Bloc Party, Magnetic Field Festival and the Enchanted Valley Festival. The lineups got bigger and the music got really loud.
RED BULL TOUR BUS
 The Red Bull Tour Bus quite literally got musicians, irrespective of their genres, all on one stage. To those few people who may still not know what it is, the Red Bull Tour Bus is a bus on steroids, being a travelling behemoth of luxury of wheels, and also doubling up as one of the most interesting fully equipped concert stage wherever it is stationed. Complete with all the rigs, lights and sound equipment that go into making a gig experience out of the world, the bus has been not only a novelty factor for musicians at different gigs across the country, but is also a total treat for the eyes (and ears) for audiences that have seen it
MUSIC FROM THE NORTHEAST
The Northeast is without doubt considered the music capital of the country, with all of the artists and bands coming out of there. What this has meant for the Mumbai metal scene this year is plenty of crazy performances by metal bands from there. Guwahati's Insane Prophecy have become crowd favourites, playing three sets at Domination-The Deathfest, Entombed Metal Festival and finally at Black Metal Krieg 3. Plague Throat played probably the heaviest and tightest death metal set Mumbai has seen this year playing at Entombed Metal Festival. Finally, Rectified Spirit from Shillong played two sets in Mumbai this year, performing at Rolling Stones Metal Awards and Bombay Asylum Volume IV. If you missed these guys in action you really missed something massive.
MUTEMATH SURFING PERFORMANCE
There are good gigs, there are excellent gigs, and then there was the performance by Mutemath at the Blue Frog, Mumbai recently. The alternative rock band that was primarily down in the country for the Bacardi NH7 Weekender in New Delhi made a stop at the Mumbai venue, played to a packed to the seams audience, and while the concert saw fans of possibly every kind of music coming in to see these four legends at work, highlights of which included Paul Meany crowd surfing on an inflatable raft, audiences subliming and singing songs even after the songs were finished and  obviously, their prowess at playing the mad sets that they do.
SOUNDS FROM THE WEST
We will be talking about this in detail in the coming few days, but 2013 was a fantastic year for not only Indian bands playing abroad, but also a great year to catch up on international bands that played in the country. Some of the biggest metal bands that played this year included Isahn, Iced Earth, Dark Tranquillity, Animals As Leaders, Leprous, Hacride, Textures, Meshuggah and Skindred. For those into metal at all, there is no need at all to explain what that translates into. For those not into metal, there has been no dearth of international bands and artists coming down either, with Norah Jones, Dry The River, Shankar Tucker, Benga, Mihal Menert, Mutemath, Zervas and Pepper, Guns N' Roses and Slash among an exhaustive list. A super kvlt year it has been, and hopefully, 2014 sees ever more kickass bands coming down.
COMING BACK
There is nothing as kickass as seeing metal bands making it through all the ruts of being a band in a genre that is probably the least supported of all. Quite a few bands saw a comeback happening in this year, with Reptilian Death coming tops, all gun blazing, releasing an album as well as landing an international tour in 2014; Cosmic Infusion and Dormant Inferno showing that even if they well lying, well, dormant for a considerable amount of time, they have the capacity to play insane black metal. Add Spiked Crib to that list, playing a live set after almost two years at Black Metal Krieg 3 and managing to still kickass, and what you have is an even larger repertoire of bands making it through, albeit with their own up and downs.
BURNING GOA AND BENGALURU
In 2013, a whole load of mud has been flying between Submerge's Nikhil Chinappa and Percept's Shailendra Singh, the two key players instrumental in developing India's biggest dance music festival property, Sunburn. What it led to was a divide between the two, and while Percept continues hosting Sunburn, Chinappa has already grabbed himself the piece of prime Candolim land to host his new festival property VH1 Supersonic that will be held from December 26 to 30, 2013 where Sunburn used to be held. The latter meanwhile has shifted to Vagator and will be held between December 27 and 29, 2013. Both promising some stellar lineups, it's win win travel for EDM fans in India, even though Chinappa and Singh continue to spar with the Goa Government and Bombay HC.
If you are a metalhead who follows social media and all the madness that ensues, you would know about the Mumbai-Bengaluru metal conflict that had been going on for what seemed like years, and eventually and quite suddenly, died the most mysterious of deaths. With both of the metal scenes unloading shit loads of accusations and brickbats at each other, the fiasco soon had people from both the scenes eventually just blaming shit on one group, the Bangalore Metal Syndicate. What the propagators of the entire episode obtained from the entire showdown is yet unknown, though there are several theories, and hence, this shall go down as one of the strangest and probably "kvlt"est things to happen in 2013.
Comments
comments