Menu
F&B;
Pricing
Ambience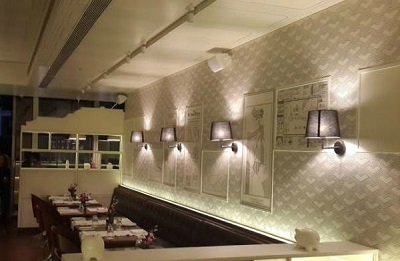 Our main cause of excitement at trying out the new outpost of Smoke House Deli was predominantly due to our love for its first one in Lower Parel. This one, situated right next to Masala Library and behind Ping Pong, is the latest addition to what's rapidly turning out be a very busy district for foodies.
In terms of space, though not that expansive, it can host a few more covers than the mid-town branch. The decor remains the same as the original, and we aren't complaining. The newly opened Bandra wing where the ertswhile Yellow Tree Cafe was situated, doesn't look any different either. We rather love the hand-drawn, whimsical designs on the wall. There are also some new additions on the menu, which the cheery staff was rather eager to have us try.
On a rare night that we weren't keen on drinking, we opted for non-alcoholic drinks because we knew we were in great hands with chef Glyston, who dropped by to greet us and offer his recommendations. The first one was a cooler, made with kiwi, melon, jasmine and lemonade (Rs 210). Taste wise, we loved it, but the chunks of kiwi made it a little hard to sip easily.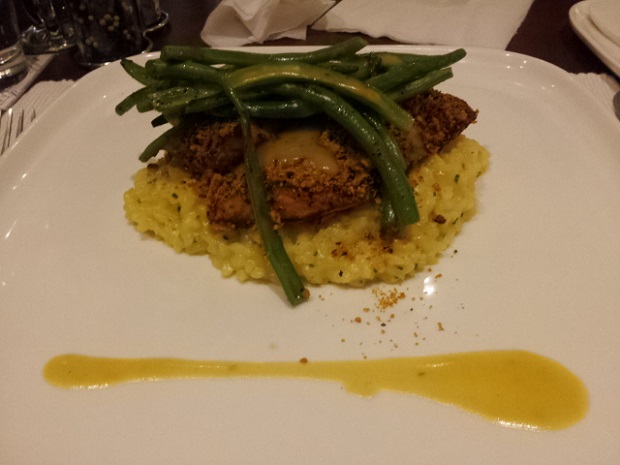 For appetisers, we opted for one of their favourites, Peri Peri Chicken, along with a new dish, the Paprika Puffs with Wasabi. Having tasted and loved the chicken dish before, we're happy to report that it fared just as well, with succulent, well-marinated chunks of chicken and a salad that we'd polish off too. The puffs were surprisingly good. Some may complain that the dressing has a stronger-than-usual kick of wasabi, but being fans of the ingredient, we were rather happy to feel the heat.
In fact, such is our love for wasabi that it led us to ordering another new dish – Saffron Seafood Broth (Rs 330) that this time, came with just the right pungency. We'd do away with some of the chunks of tomato in our broth (they were more than even the seafood), but on other counts, the dish was fairly satisfactory.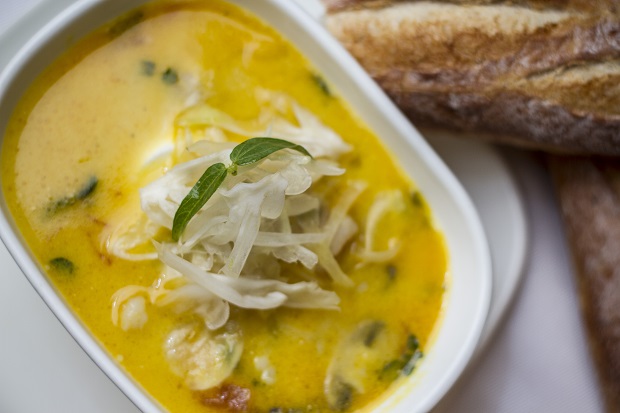 Between courses, we opted for our second drink – the popular Cucumber Spritzer (Rs 210) – that's as refreshing as it sounds. We'd imagine it to be a hot seller during the summers, but we enjoyed it just as much on a pleasant night as well.
Our mains comprised of a new dish and an old favourite, albeit modified version. The former was the Chilli Crusted Grouper with Lemon and Thyme (Rs 690) while the latter was the House Special Tenderloin Steak with Grilled Vegetables and Potato Wedges (Rs 520). The steak isn't very different from what we're used to having at Smoke House Deli. The wedges are a welcome addition to the dish. We asked for our meat well done and that's exactly how it came.
The fish was a revelation. Two perfectly crusted and cooked fillets, along with a lemon sauce and rice made for a pretty picture and tasted even better. It's too bad that we were so full on our appetisers and soup that we couldn't manage to finish the dish.
We contemplated skipping dessert as we were positively stuffed, but who can resist the Flourless Chocolate Fudge (Rs 230) at Smoke House Deli? Giving ourselves a short break before we ordered it was the best decision of the day. The delicate sliver of fudge came with a scoop of vanilla ice cream and was polished off in seconds. Needless to say, our meal ended on quite the high note.
Would we go back to this outpost? Maybe not. But only because the one in Bandra West is now open, and we are more than eager to dine their soon.
Smoke House Deli,
3A, Ground Floor,
FIFC Building, 
Bandra Kurla Complex, Mumbai
(PopSplat reviews all restaurants anonymously and the reviewers pay for all their meals.)
Comments
comments