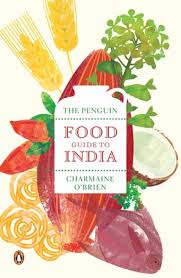 If you were in Lucknow for a day, would you know what to eat apart from the Nawabi city's kebabs and biryani? The Penguin Food Guide to India might be what you need. Penned by Australian food author by Charmaine O'Brien, the book was launched yesterday by Crossword at their Kemps Corner outlet in Mumbai.
The book promises to be the first ever comprehensive guide to regional food across India. The book moves from state to state unveiling the delicacies of the region. It also features a historical and geographical overview of why and how the food of the region evolved to its current nature. No food guide would be complete without a mention of must visit places and O'Brien gives us her list of places worth eating at. In her words though, this list is not exhaustive. The book is meant to not only be  a guide of places to visit but is meant to introduce dishes to people so that even if you were at a restaurant not mentioned in the book, understanding the menu would be a bit easier.
OBrien is an independent culinary writer, historian and educator. She is the author of "Flavours of Delhi," "A Food Lovers Guide," "Recipes from an Urban Village," "A cookbook from Basti Hazrat Nizamuddin" and "Flavours of Melbourne, A Culinary Biography." She also teaches Indian cookery, designs and caters special occasion meals, works with individuals to reconnect them to psychosocial and physical wellness through eating and cookery practices. She writes to unravel the world and put it all back together so that all roads lead to food. It is her way of channelling her constant thought of what shall I eat next into something more interesting than excess kilos. O'Brien is currently working on a book about food in colonial Australia.
The book is available at all major book stores. Price: Rs 499
Comments
comments