When:
May 11, 2022 @ 7:45 pm
Where:
St. Andrews Auditorium
St. Dominic Road
Bandra (West), Mumbai, Maharashtra 400050
India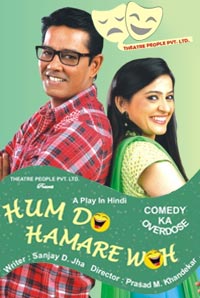 Language : Hindi
Director : Prasad Khandekar
Writer : Sanjay D Jha
Cast & Crew : Anoop Soni, Smita Bansal, Sachin parilkh, Jay chaubey, Durgesh Dwivedi, Jitendra Joshi
The play Hum Do Humare Woh revolves around six characters. It sheds light on the blind belief which most people have in their individual lives.
A couple, who lived together for almost a decade and a half suddenly reach a point of divorce. Samir,who is going to die after a few days, announces Saloni's plans to remarry. Samir is greatly influenced by the famous "Komal Baba", who has announced Samir's death after 15 days. His friend Dheeraj supports his decision and calls for various suitors for Saloni. Unknowingly, Saloni's friend Vineetenters the house as a guest and comes to know about the declaration made by Samir.
For more details, click here.
Comments
comments