Actiing
Direction
Screenplay
Story
Music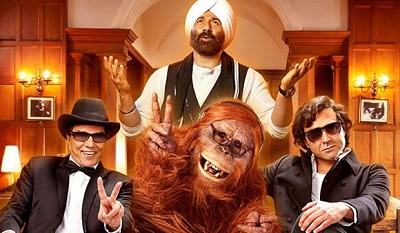 You know how bad "Yamla Pagla Deewana 2″ was? Well, for starters it made the average Joe of Part One of the same franchise look like a winner. On the other hand, it doesn't matter because in spite of the thumbs down by critics and avid cinegoers, the film's already raked in Rs 22 crores over the weekend! From where I stand, the Deols might've made their money, they still have to prove their mettle together. The thing that really rattles me is that in an industry bursting at its seams with talent, stories and ideas, why did these three, actually make that two (I never count Bobby Deol in the game), go for the most idiotic, bordering on an insult script? I'm yet to see that spark of genius in any actor that I've seen in Dharamendra and the sincerity and humility Sunny Deol manages to capture. Yet they seem to be happy doing this monkey business. Trust me, Punjabis don't behave like this. They don't shout and shatter windows nor do that beat the crap out of Sumo wrestlers. They don't entertain orangutans called Einstein either.
"YPD 2″'s disaster lies in its mismatched characters, plots and misguided spoofy humour. There is "Dabangg" attitude and "Don" buffoonery (the Shah Rukh Khan one, we mess with Big B, you see). The orangutan, (no idea why he's in the film) is a genius Dharamendra decides to call Happy Singh. Wow! He even has a lady orangutan in pink lingerie doing a number on Sheila Ki Jawani. Seriously! Where are the People For Animals menagerie now? Bobby finds humour in ridiculing an MF Husain and mouthing off dialogues like –"life main teen logon ko underestimate mat karna – Chulbul Pandey, Tiger aur Prem Oberoi." Dharamendra, on the other hand, waves an "Oberoi Pranam" (whatever it is) and finds it acceptable to imagine a Yeh Dosti song on the bike with the orangutan.
I did enjoy Johnny Lever's "Don" act but Sucheta Khanna strangulated junglee billi (Priyanka Chopra's character Roma is called that by SRK's Don in the movie). Annu Kapoor as Sir Yograj Khanna is hilarious with his Brit accent. But the worst performance of the year award goes to Anupam Kher who as a peroxide blonde haired villain called Joginder Armstrong aka Dude is a misfit and a mockery to the whole villain-dom. His sidekicks Hiroshima and Nagasaki bring out the worst in the worst – if that makes any sense at all…that's the point, the film makes no sense.
Why couldn't they just pick a simple Punjabi comedy, there are plenty doing the rounds. Or they could've very well taken the money and burnt it!
Comments
comments