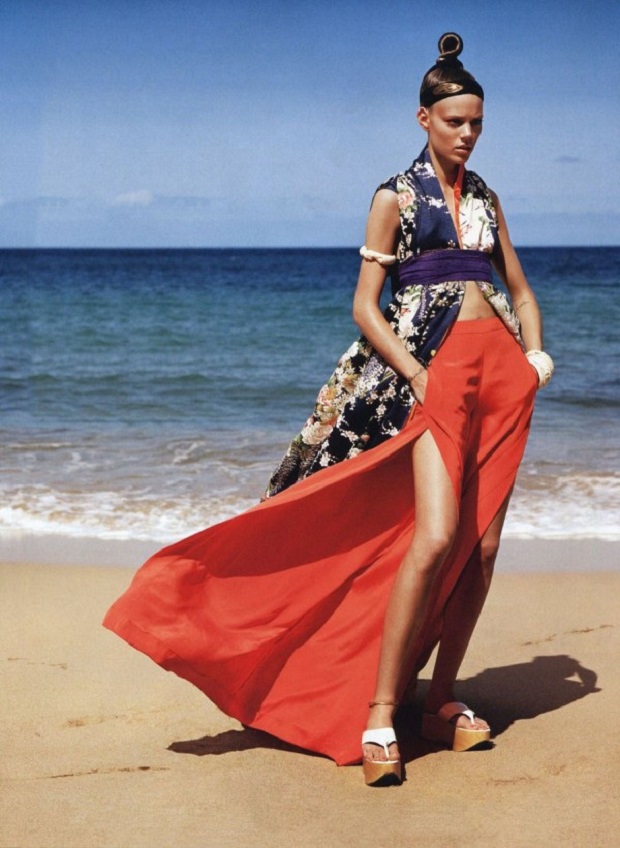 Think delicate cherry blossom prints, sweet violet, pastels and you think of South East Asia. The oriental influences have always been around in fashion, but this season of Spring/Summer 2013 has seen a surge in influences that go beyond folklore prints. This über-modern style reflects the freshness in clothing, yet becomes softer and more human.
Light-infused, filtered colours complement clean textures. Transparency continues to be important with colour ranges made of three layers, where pale pastels blend seamlessly with intense darks and vibrant brights.  The oriental influences are celebrated by paying homage to their emerging talents in art, fashion, design and architecture.
Exacting architecture, purity of line and abstract art inspire clean aesthetics. Unexpected levels of colour are explored, by combining shocking fluorescent accents of coral, hot pink, absinthe and turquoise with dark bases of spruce, sweet violet and mocha. Milky pastels add a warm, yet naïve update to brights and feminine hues.
An Asian ambience is revealed through flowering cherry blossoms in springtime and the delicacy and precision of Japanese garden design. A halo of purity will envelop fresh faces to create a stark yet ethereal vision. The Japanese concept of ikebana references the exacting art of floral arrangement. The thought and consideration given to balance, colour and scale will apply to clothing and accessories.
Prints and graphics especially benefit from this philosophy, with sweet and sour colour on a clean white base. White acts as a renewed canvas in design, making products seem clearer and more concise
Kimono flowers inspire this season and are newly interpreted in a modern photographic style. All over patterns featuring cherry blossoms, lotuses and orchids will mix with placed embroidered motifs for an elegant finish.
Things to keep in mind while putting together DIY oriental outfit.
Ombre:  candy colours / ill-defined stripes / two or three-tone ombres / overlaid stripes on geometric shapes.
Colour Rush:  Multi-coloured / prints mimic movement / light beam effects / digital brushstrokes.
Cherry Blossoms: Japanese influences / overexposed photographic techniques / fresh greens and pinks.
Ikebana: Digital approach to floral prints / mirrored effects / kaleidoscopic / compact patterns.
Kimono Art: Traditional motifs like fans and flowers / patterns within motifs create texture / placement prints,
A super light translucent silk chiffon blouse defines femininity.
Digital prints appear as if erased and faded on smooth silk wrap skirts.
Asian art inspires digital floral prints.
Placement prints are influenced by Japanese art and floral imagery.
Oversized men's shirts reinvent the kimono concept for women.
Comments
comments