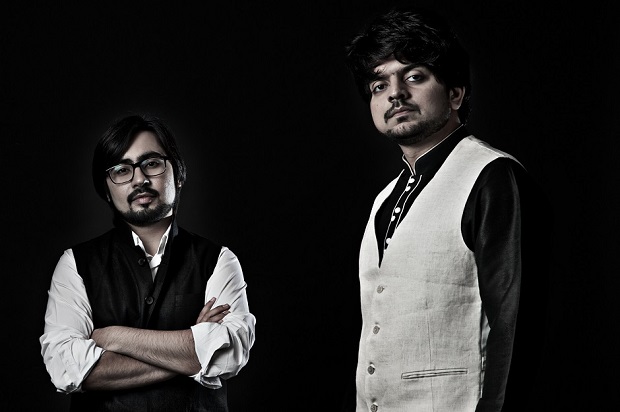 Sarangi player Suhail Yusuf Khan and guitarist/composer Aditya Balani have been stalwart figures of the young Indian indie scene in the country. In Delhi's maniacal nightlife culture, both Khan and Balani's evolving sounds have been whetted at many a venue since 2002. The duo started out as part of a rock act Incognito back in 2002 to becoming a force behind the fusion act Advaita. In 2012, Adi & Suhail began an experimental side project that combined Hindustani classical sangeet, sufi poetry and electro-rock. After playing across the country at various gigs and festivals, and even making an appearances on the televised jam show Coke Studio @ MTV and BBC Asia- Adi & Suhail released their debut album last month called "Culture Code Landscape." The album features collaborations with bassist Gaurav Balani (Parikrama), pianist Sharik Hasan, vocalist Shilpa Rao and trumpet player Tomos Williams amongst others. We spoke to both Adi & Suhail about their new sound and their upcoming shows in UK in May.
Congrats on "Culture Code Landscape." Can you acquaint us with the songwriting process of the album?
Adi: Thank you very much. The album has nine songs in total and features a host of international collaborations like – Shilpa Rao, Isaac Haselkorn (US), Tomos Williams (Wales), Sharik Hasan(Bangalore/NY). Our writing process is very organic. We both sit with a guitar and sarangi and work with the songs acoustically. Then once we have a structure and form in place we arrange it for the whole band. Some of the electronic heavy tracks start out on my computer and we record some guitar and vocal layers and then the arrangement process follows.
Suhail: The song writing process is not really a fixed a pattern. A lot of times Adi comes with an arrangement or a melody and I put words on it and a lot of times its the other way round.
You guys first announced Adi & Suhail in 2012 and released Laage Re, which gave listeners an insight into what your sound will develop into. Was it an experiment for you then? When did you decide to take Adi & Suhail to the next level and start work on an album?
Adi: We actually had our first live show coming up back then and we were in the process of polishing our songs and to promote the show we just recorded a live video of us playing Laage Re. We didn't expect the positive reaction we got and that definitely inspired us to take the project further. We had been working on the music without an agenda to record or release anything, just purely for the joy of creating music. Once we had a set of songs ready that had a coherent sound we decided record the music and release it.
Suhail: When we had released Laage Re in 2012, the idea behind that video was to promote an upcoming gig of ours, through that song. Neither me nor Adi had any clue that the video will go viral and by the grace of God we got very positive feed back for that song. I think when Adi returned back from Boston in the summer of 2010, he gave me a call to visit him. I went to his house, which has a beautiful terrace with a gazebo. I clearly remember that lazy afternoon. I was fasting because it was the holy month of Ramzan. Adi was comfortably sitting in his practice room with his favourite Fender strat on his lap strumming some really epic-sounding chords. I entered the room, greeted him and started singing this poem written by Baba Bulle Shah and the song Naina was born. We both felt this aura of massive energy surrounding both of us and that was the day I think we decided that we should seriously take this to another level.
You two have been an inherent part of Advaita and Suhail you continue to be so. Why not just absorb the Adi & Suhail songwriting into Advaita?
Adi: They are different projects and different avenues of creative expression. Both Suhail and I are involved in various projects and we bring in very different characteristics to each of them. For example Suhail had played on a tour I have played with Aditya Balani Group (my jazz setup) where his role and stylistic delivery was quite different. I wouldn't want to bring the sound of Adi & Suhail into that and in the same way we wouldn't want to incorporate that with Advaita or the classical and other projects Suhail does. Advaita has a special sound when the eight members come together to create music. When Suhail and I write it's a separate sonic identity that we have created and continue to build upon.
Suhail: Advaita is more of eight heads acting as producers - you have three singers, keyboards, guitars, tabla, drums, bass and I play the sarangi as well. It has more of a band vibe, wherein Adi & Suhail is just Aditya and I. We are the sole music producers and we really dig the idea of collaborations.
Adi & Suhail is an an electronica-meets-Sufi project. Was that something you both wanted to do together? Are you both into electronica?
Adi: Both of us are heavily into electronica and that's why that influence comes up in our sound.
Suhail: The boys in Advaita are influenced by electronica as well, well not all of them but most of them, including me. Adi & Suhail is on the border of Sufi-meets-electronica, because both Adi and I dig electronic music a lot.
What do you plan to bring to the stage at your upcoming tour? WIll there be any live collaborations?
Adi: We've got a great response so far with live shows and single releases. Our Coke [email protected] and BBC appearances were also very well received and we are really happy about that. We will feature Shilpa Rao at our Mumbai show and other guest artists in different cities. We will be playing all the songs from the album and some new ones as well.
Suhail: The reception till now has been great, mashallah. We plan to make our shows into an Adi & Suhail experience for our live audiences rather than just putting up the usual gig. This will include a lot of visuals. There will be some live collaborations on the tour as well, like Adi said.
Take us through an ideal day in the life of Adi & Suhail. How do you jam, write songs?
Adi: I have a small home-recording setup where we jam, record ideas and develop them. Both of us keep coming up with new ideas and we just find something that appeals to us at that moment, and start working on it. It's a pretty simple writing process.
Any festivals you're planning to be a part this summer ?
Adi: Our goal is to reach out to a much wider audience and are keen to play as many festivals in India and abroad. In the summer we're heading to the UK for some shows and once we share our album, we're hoping to get a good response.
Suhail: Yeah, the London shows in May may help us get some festival appearances for us at a later stage.
Adi, how did you get into electronic music?
I honestly don't remember how I got into it, but once I started toying around with synths and software like Reason I really got into sound design because I could create sounds that weren't possible acoustically or with my guitar. Another thing that excited me was that I could compose bass lines, drum grooves, keyboard parts and record vocals and guitars over it. So it really brought out the producer and composer in me which was a new direction for me to take my music to.
Catch Adi & Suhail in your city on the following dates
April 25, 2022 - Whistling Duck, Chandigarh
April 30, 2022 – High Spirits, Pune
May 2, 2022 – Blue Frog, Mumbai
May 4, 2022 – India Habitat Centre, Delhi
May 22, 2022 – Nehru Centre, London
You can buy "Culture Code Landscape" here. 
Comments
comments