Acting
Direction
Screenplay
Cinematography
Music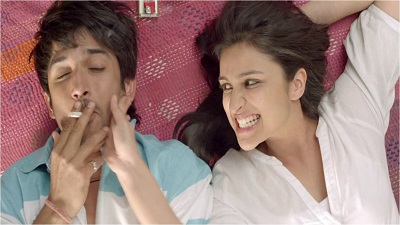 In one of the pivotal scenes in "Shuddh Desi Romance," a bemused and not-so-coy bride Tara (Vaani Kapoor) and her to-be-groom Raghuram Sitaram (Sushant Singh Rajput) stand across from each other at their wedding mandap. Respective families too take position on either side of the couple, like battalions of two opposing sides meeting with their armour-clad bodices, (in this case chain of baubles and layers of clothes) negotiating the terms of this 'battle-fare'. The garlands are to be exchanged and our groom is hinting at retreat, quite literally. The last doubt, the what ifs start plaguing his mind and like any young Captain on the border, wonders whether marriage really is his only option. A quick pendulum motion sets in place with Tara extending the garland and Raghu retracting his neck. Both sides chuckle, nag and mildly hint at commitment-phobia. That triggers the eject-button in Raghu's mind as he dashes for a loo break and is last seen scaling the walls and running across rooftops in full-speed. The bride instead of breaking down in full saas-bahu fashion, plonks herself on a stool and in a rather nonchalant tone asks, "Thanda milega?"
No, it's not "Runaway Bride", though the idea seems to be a derivative of the same confusion, the similarities stop right there. "Shuddh Desi Romance" is a coming-of-age romcom set in present-day Jaipur, but is really about present-day India. It could be the story of anyone and that's where screenplay/lyricist /dialogue-writer Jaideep Sahni's truly arrived characterization and story-telling rests perfectly.  The story revolves around the lives of three middle-class characters seeking love, preferably with no-strings-attached. Raghu is an orphan who works as a part-timebaraati for wedding-planner Goyal saab (Rishi Kapoor). He meets school-teacher cum part-time rental baraati Gayatri (Parineeti Chopra) en route his own wedding to another middle-class girl Tara, as his sister-for-hire. In the bus on the way to his wedding, as part of a last-sin trickery and maybe even curiosity, sparks fly between the two. Over cigarettes, past loves, groom counseling and night-long  travel – Gayatri and Raghu kiss. Awkward, interested, potentially passionate and confusing – the two separate for the remaining part of the the journey. Ironic.
As the plot progresses, Gayatri and Raghu meet again, discuss their kiss and their momentous chemistry, start living in, fall in love and on a drunken night decide to get married. India has no Vegas to seal the deal as fast as a drunken decision and perhaps that's why on the day of their much-planned and much-touted wedding, the bride runs away post a much-needed ciggie break to the loo. A heartbroken Raghu, finds himself stumbling back to Tara's life as the now-independent career girl's lover. A half-baked love leads to an eventual breakup, when Raghu finds Gayatri again. But again, marriage may not be the best final destination of this journey.
SDR's biggest strength as a story lies not just in its crisp writing, but also in the fact that it's perfectly timed. We are a nation that boasts of a under 35 years of age janta. This is a generation that is walking the tightrope, balancing so called modern principles and traditional values embedded in their Indian system. And the accurate measure of any new-age urban culture is its permeation into more diverse social stratas. All the three characters in the movie belong to lower-middle-class backgrounds. Their means are not really humble, but their ideologies are conventionally thought to be more traditional. Career, love and marriage are the three points of their triangular trajectories in which they find themselves at the focal points of. Tara, Raghu and Gayatri are independent beings sans the excess baggage of family or financial or emotional burdens. They won't necessarily do the right thing, but will do what they feel is right.
This is also not a love marriage versus arranged marriage fight fest. Neither does it question the institution of marriage. Instead, SDR pops an altogether different question: why marry at all? Both Tara and Gayatri live not insular, but complete lives and even if they make space for a love like Raghu, they can do without him. The drama-free, tongue-in-cheek romcom recalls the same structural yet lateral writing of Sahni's earlier works like "Khosla Ka Ghosla" and "Rocket Singh." Director Maneesh Sharma's translation is piqued in the same treatment he gave his breakthrough act in "Band Baaja Baaraat." It's kitschy and Sharma really does know how to put together a wedding set.
Both Rajput and Chopra share a palpable chemistry. Vaani does a fantastic job at essaying an independent, nonchalant PYT who will fall in love readily, but also fall out of it just as quickly. But of course, the master of puppets is Rishi Kapoor. All his years of playing a romantic hero in Indian cinema, has made him a seer of all things love. And he really brings it to the table as the podgy, pagdi-wearing wedding planner who is also a father figure to both Gayatri and Raghu, guiding their romance and urging them to marry. This is Rishi Kapoor's second lease of life as an actor, and he is doing it with bravado.
If the weekend collections are anything to go by, "Shuddh Desi Romance" could very well become the "DDLJ" of this second decade of the Naughties. We've come a long way in our emotional health and marriage is not the only way to live happily ever after. . .
Comments
comments