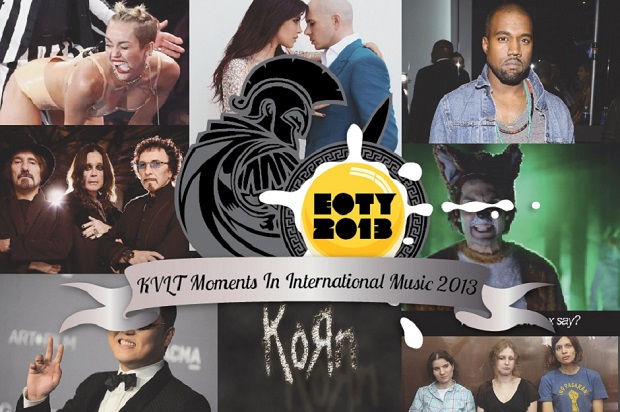 This year was without a doubt every music journalist's dream with such a huge stash of celebrity scandal, controversy and what not filling the columns, every freakin' day. Here's our mash up of the funniest, strangest, saddest and most brilliant things to hit the tabloids.
PRIYANKA CHOPRA WENT EXOTIC
Oh yes she did. Pee Cee made such a splash when she won the Miss World title almost a decade back and then followed it up by getting into acting. A few blockbusters and a "K-K-K-Khan" romance later, she decided to get into music. After last year's In My City, Ms Chopra went Exotic this year with  Pitbull, two singles from her upcoming Lady Gaga's manager-endorsed album which will release in the coming decade maybe. Then she performed at the Mecca of sports entertainment, the Super Bowl, and what qualified her to sing at such an event, no one really knows. How long must we endure this heavily-accented onslaught, we wonder. Something tells us 2014 will bring another such moment. Oh dear.
BLACK SABBATH TURN "13″
Black Sabbath are without a doubt the first heavy metal band in the world. Formed in 1968, it's astounding how they are still kickin' arse. And that says something really hard-hitting and brutal about these pioneers of the most energetic and aggressive genres of music in the world. 45 years on, the band released their thirteenth album, titled "13." Sure, the band's music has changed over the years, considerably, but what is absolutely fantastic about the band is the amount of feel the artists still manage to exude thorough their music even today. And also, of course few things in the world will ever match up to the awesomeness of Ozzy Osbourne, Tony Iommi and Geezer Butler on one stage.
PSY TO PSYCHE
Sex sells and kinky sex sells better, but when Psy makes a video, you need to be careful of who is around you, especially if there are kids in the house. While Gangnam Style became the most popular song in the history of K-pop, being the first video in the world to hit more than one billion views, his big song for 2013, Gentleman (un)fortunately did not garner the same response. While the song made more sense than Gangnam Style (with the former having three English words "mother, father, Gentleman" against the latter's one, "style"), what especially didn't work for global audiences was the bizarre representation of women, and worse still, Psy's own chauvinistic actions in the video. To be fair here, Psy made a song that reflects modern oriental video culture, and audiences instead of screaming "sinner." You could just change the channel. Easy as that really.
NO MR SICKO PEDOPHILE
Lostprophets singer Ian Watkins had all of it working for him, and indeed for the band until allegations of him committing multiple acts of pedophilia started surfacing. Well, following that kind of publicity, it was not really a big surprise that everything started falling to smithereens for him and the band. Found guilty of the charges, Watkins will be spending the rest of his life in jail (read  29 years' imprisonment and six years on extended licence). Too sad, since the band was a highly popular one, and had to stop due to the bullshit actions of one person. Then again, he probably deserves a special place in hell, if it ever exists.
KORN GOT CORNY
Back in the day, when the members of Korn were busy being monsters of nu metal, and pwning the world with their ruthless aggression and "fuck everyone" attitude, no one ever imagined that there would be such a gearshift in their musical sensibilities. Who the heck goes from doing songs like Blind and Freak On A Leash to mediocre songs like Twisted Transistor and the 2013 album, "The Paradigm Shift" especially the track, Never Never? What exactly Korn is trying to do with their music, is anyone's best guess. Let's spell it out anyways: They are selling out. The hope is 2014 sees them throwing out the mushy stuff they are doling out at the moment and switch it for their old, original ways.
GLOBAL WRECKAGE OF MILEY CYRUS
A few months ago, the word "twerking" existed just on the underground dance scene, something relevant only when taken in context to grinding. Then Miley Cyrus decided it was time to swoosh a sponge finger around her crotch, and make the "twerk" a mainstream dance form. Except this show that she put up cannoned her into an oblivion of controversy, with billions around the world suddenly losing all faith in humanity because their favorite "Hannah Montana" became naughty. To top that, her nude antics in Wrecking Ball left little to imagination about her physicality as well as her mental state.  Without a doubt, she has been the biggest shock, at least of 2013, going from uber-famous to uber-infamous.
KANYE REDEFINES ROCK 'N' ROLL
If there's one celebrity who seems to have gone completely fruity in the head in 2013, it has to be Kanye West for all of the mind numbing statements he has made this year. Right from celebrating rap as the new rock and roll, to stating that he is God himself, to proclaiming verses from his own songs as being the best ever written in the history of rap… there is little this guy has left back to outdo his own earlier words. From a guy who made tracks like Diamonds From Sierra Leone and Can't Tell Me Nothing, to someone who is quite literally pushing the boundaries of celebrity whoredom, Kanye seems to be going south all the way. Just Google "Kanye West is," and see the suggestions you get. Just do it.
SLAYER FANS vs WESTBORO CHURCH
Every once in a while you hear about this certain group of Christian fanatics called the Westboro Church doing the slimiest of actions, right from suggesting God was punishing sinners in hurricanes to picketing the funerals of soldiers who had died in Iraq and Afghanistan. Among the least sensible of people on this planet, misquoting the Bible and suggesting doom at the drop of a hat, these guys thought it would be a good idea to show their faces at Jeff Hanneman, Slayer's late guitarist's memorial celebration by picketing it. Their reason for picketing- that Hanneman was "spreading the work of the devil," that he was a Satanist, and a whole lot of other religious hogwash. Obviously Slayer fans promised a bloodbath for real if anything of that sort happened, and if you are a metal head, you know Slayer fans are not to be messed with. The nitwit organization decided to steer clear of this kind of aggression, gave the memorial a miss, and averted a calamity of sorts.
EYE FOR AN EYE TO EYE
If are an Indian who has the slightest of connection with the side-y videos that make it big to the Indian viral circuit, you are without a doubt a fan of Taher Khan's Eye To Eye. After all, what' not to love about this portly, long-haired bloke who is singing so passionately about eyes? His lyrical prowess may be seen in this, the first verse of the song: "Eye to eye. Eye to eye. Essentials and sensual eyes, My eyes and your eyes, Colorful eyes our eyes, Fabulous exciting eyes, Eye to eye. Eye to eye." You got to wonder how he comes up with such stuff. Let's hope the Westboro Church want to meet him. Soon.
FOXING AROUND
Norwegian comedy duo Ylvis somewhere released what was to become the most watched video of 2013. Based on probably one of the deepest questions of our day and age, What Does The Fox Say? is a song with the catchiest beat, the most whimsical of lyrics, the most colourful video and an essential party hit. Wait, we just described every song on the dance party circuit, so what's different about this one, you ask? The fact that it is a parody on songs that become internet sensations for who knows what reasons. Case in point- Gangnam Style.
PUSSY RIOT's RIOT
One of the most controversial music acts to have sprung up in the world, let alone in Russia alone, is Pussy Riot. An all-girls band formed in 2012, Pussy Riot is made up of a number of women, some guessing as many as 11, who play punk rock, their musical themes mostly involving the Russian Orthodox Church and President Vladimir Putin. What makes this band outstanding is their nonchalant disregard for all authority, especially in such a politically-charged nation. Masked in bright-coloured balaclavas, these girls have been known to create a ruckus in churches and public places, doing impromptu performances, and uploading videos from these to recorded music. Their unending war with the totalitarian communist state of Russia has seen them in and out of prison. We are holding a candle for their freedom and freedom to sing.
Comments
comments