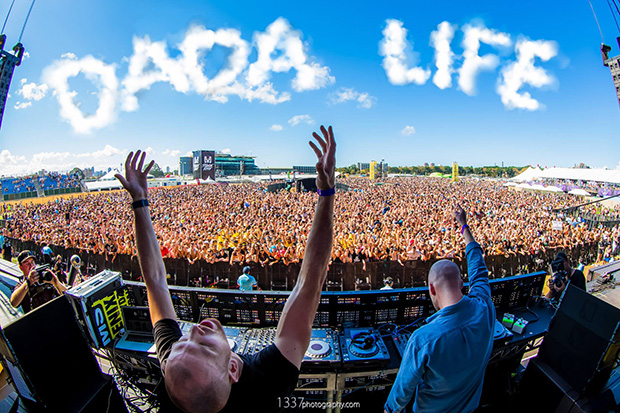 If Van Wilder ever took to the console, he'd be a lot like the Swedish dance duo Dada Life. Since Olle Corneer and Stefan Engblom Unleash(ed) the Fucking Dada upon party revellers in 2011, the world has been reeling from the prog house powerhouse duo's maniac beats and visual treats. A constant figure on DJ Mag's contentious Top 100 list, Dada Life has been keeping the party going for quite some time. The duo is on its first India tour this week courtesy the good folk at Submerge all this week in Bengaluru, Delhi and Mumbai. Keep your wits about yourself, for you might just be party to a pillow fight. Dada Life owns the Guinness World Record for creating the largest one at a gig in Chicago last year. We spoke to the twosome about their upcoming album, hot air balloon tour (yup it's happening), their anxiety on getting on ground soon enough to get in stage and of course street food in India.
Q-1. What is Big Time in the Dada Life household?
No idea. I had almost forgot that song.
 Q-2. What does Dada Life eat if we were to Feed the Dada?
Red meat.
 Q-3. Why are you called Dada and what's Dada Land like for you guys?
It's all about doing the Dada and living a Dada Life. But exact how you do it is up to each and everyone…
Q-4. What's new in the world of Dada Life? New mixes, new songs, new productions, new album?
Right now we're finishing our next single, One Smile. We will also release an album - at least some sort of an album - this summer or early fall. Also in July we have Dada Land: The Voyage Tour, which is the "World's First DJ Tour via Hot Air Balloon". We wanted to do something really different so we thought about the hot air balloon as a different way of touring. It is also going to be a musical voyage with us playing the opening set early in the night with classic stuff - and then ending the whole thing with all the latest music. Now I just hope someone has figured out how to steer that thing so we can land in time for our set…
Q-5. What craziness is on your plate for your India tour? Any sights and scenes you will be spotted at when not in the club?
We haven't really planned anything yet. I don't even know how long we're there for. But I would assume get some good street food and check out other local stuff. We're not big on sightseeing but we like to walk around new cities to get a vibe of the place.
Dada Life dates:
June 6 - The Royal Orchid, Bengaluru. Support acts - Rohit Barker and Nikhil Chinapa
June 7 - I Kandy, Gurgaon. Support acts - DJ Mash and Progressive Brothers
June 8 - Kitty Su's PleasureDome, Mumbai. Support acts - B.R.E.E.D and Nawed Khan. 
Buy your tickets here. 
Comments
comments